Oral and Maxillofacial Surgeons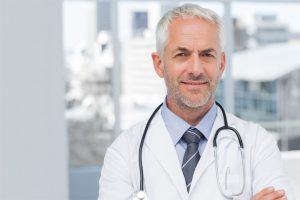 Dentists can undertake minor oral surgeries, but they are not oral surgeons or oral and maxillofacial surgeons (OMS), which is the complete name of these specialists. The word "maxillofacial" means pertaining to the face and jaw.
An OMS receives four years of dental school and then completes a minimum of four to six years of additional surgical training. In addition, these specialists are trained to administer anesthesia and offer care in an office setting.
Oral and maxillofacial surgeon Dr. Landon D. McLain provides oral surgery to patients in Huntsville, Madison, Florence, Decatur, Scottsboro, Cullman, Athens, Alabama, and surrounding communities.
Training and Certification
For an oral and maxillofacial surgeon, the average total length of education and training after secondary school is 12 to 14 years.
In general, training includes two to four years of undergraduate study, four years of dental study (DMD, BDent, DDS, or BDS), and four to six years of residency training (six years include two additional years for attaining a medical degree).
Upon completing surgical training, a majority of oral and maxillofacial surgeons undertake final specialty exams. This certifying body in the US is the American Board of Oral and Maxillofacial Surgery (ABOMS). Patients can verify that a surgeon is board-certified through the ABOMS.
Oral and maxillofacial surgeons with board certifications are expected to maintain current standards through continuing professional endeavors. This ensures that they remain updated in their knowledge and skills as well as practice in a safe and contemporary manner.
Procedural Expertise
There are various procedures that oral surgeons are trained and authorized to undertake, such as:
Tooth Extractions
Tooth extraction is the most recognized form of oral surgery. Some reasons for tooth extraction are as follows:
Teeth beyond repair either from root fracture, tooth decay, or trauma

Primary teeth that have failed to fall out, preventing the eruption of permanent teeth

Impacted or partially erupted wisdom teeth

Orthodontic treatment plans, which may warrant the removal of some teeth to decrease crowding and accomplish the optimum result
Cleft Lip/Palate Surgery
This surgery does not refer to a single procedure, rather a series of surgeries to help maximize the advantage to a child while minimizing the risks involved.
Corrective Jaw Surgery
Orthognathic surgery typically is undertaken to treat:
Major or minor trauma to the jaw

TMJ and dysfunction due to trauma or deformation

Malocclusion or incorrect bite

Incorrect jaw position, which can cause an out-of-proportion facial appearance
Dental Implants
Today, dental procedures are a common procedure to replace missing teeth or offer stability to a new or existing denture. The procedure for fixing a dental implant may differ, depending on the technique used by the surgeon as well as the type of implant used.
Facial Cosmetic Procedures
Their specialized surgical and dental background allows oral and maxillofacial surgeons to undertake a cosmetic procedure that involves the aesthetic and functional aspects of the face, teeth, mouth, and jaws.
Sleep Apnea
Oral surgeons typically serve as a member of the sleep team to help address obstructive sleep apnea. Oral and maxillofacial surgeon Dr. Landon D. McLain receives patients from Huntsville, Madison, Florence, Decatur, Scottsboro, Cullman, Athens, Alabama, and nearby areas for oral surgery.
McLain Surgical Arts is a leading cosmetic surgery practice headed by Dr. Landon D. McLain MD, DMD, FACS in Huntsville, AL. Dr. McLain is a double board certified cosmetic and oral & maxillofacial surgeon, offering a variety of procedures such as dental implants, wisdom teeth extraction, breast augmentation, liposuction, rhinoplasty, tummy tuck, facelift, Botox, and laser skin resurfacing. For more information or to schedule a consultation call 256.429.3411 or click here.
Now taking patients from Huntsville, Scottsboro, Decatur, Madison, Athens, Florence, Cullman, AL and surrounding areas.