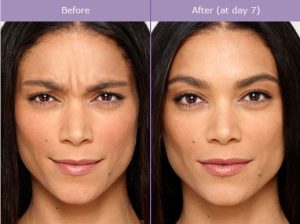 BOTOX® Cosmetic and XEOMIN® treatments can make a subtle but noticeable improvement in your face by smoothing fine lines and wrinkles. If frown lines, crow's feet and neck bands are doing more than just adding character, it may be time to respond with one of these effective injectables. Women and men visit Dr. McLain for XEOMIN and BOTOX in Huntsville, AL to look naturally younger.
People come to Dr. McLain for XEOMIN or BOTOX injections from as far as Birmingham, AL, Tennessee and Georgia. Request your consultation today or call our office at (256) 429-3411 to schedule an appointment.
What Can BOTOX and XEOMIN Do for You?
Known as "dynamic wrinkles," the lines caused by repeated motions (like squinting and frowning) actually result from contractions in tiny muscles. These wrinkles can make you look tired or angry, and can add years to your appearance. BOTOX and XEOMIN are safe, prescription medications that temporarily alleviate wrinkles such as:
Crow's feet
Frown lines in the forehead
Neck bands
Horizontal forehead lines
Dr. McLain on Botox vs. Fillers
Photo Gallery
Click below to view real patient before and after images.
Schedule Your Consultation Today
How Do BOTOX and XEOMIN Work?
Both products are made from a purified protein derived from the botulinum bacteria. Once injected, BOTOX and XEOMIN block the nerve signals that cause the tiny muscles to contract and form wrinkles. The muscles then relax, diminishing your wrinkles.
Dr. McLain may also recommend combining BOTOX or XEOMIN with dermal fillers or as a complement to facial plastic surgery procedures to maximize your results. Make the most of your visit and indulge in one of our relaxing aesthetician services such as a customized facial while you're here.
BOTOX and XEOMIN With Dr. McLain
Dr. McLain will carefully examine your face during your consultation and form a specific injection plan for you. He can customize the locations of your injections to your particular wrinkle patterns. He uses tiny needles to inject BOTOX or XEOMIN, so pain is minimal. You won't require any anesthesia, and although the duration of injection sessions varies from patient to patient, injections can last as little as 15 minutes. You can return to your routine right away with nothing more than a little redness at the injection sites.
Your results will appear within 2 to 10 days. The improvement in your wrinkles will be noticeable and should last for 3 to 4 months. After this time, you'll need to repeat your treatments to maintain your results.
Dr. McLain also uses BOTOX and XEOMIN for medical conditions such as hyperhidrosis (excessive sweating) and facial muscle spasms. You can discuss any of these issues with him at your consultation.