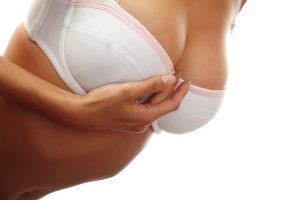 Many women consider their breasts essential to both femininity and confidence. No two bodies are the same, and each woman has her own concept of the ideal breast size to complement and optimize her proportions. For women hoping to increase their breast size or correct asymmetry, Dr. Landon McLain offers breast augmentation with implants in Huntsville. Birmingham, AL women and those from as far as Tennessee and Georgia come to Dr. McLain for the stunning results he achieves through breast augmentation.
To meet with Dr. McLain, request your consultation today or call our office at (256) 429-3411.
What Can Breast Augmentation Do For You?
Breast augmentation enhances a woman's body contours by increasing the size of her breasts. Women often seek this procedure to:
Create a more balanced figure
Correct volume deficiency after pregnancy
Improve breast symmetry
Photo Gallery
Click below to view real patient before and after images.
Schedule Your Consultation Today
Breast Implant Options
Breast Implant Placement
How Does Breast Augmentation Work?
Breast augmentation adds volume to the breasts through the placement of a silicone or saline breast implant. While breast augmentation enlarges the breasts, it improves – but generally does not completely correct – major asymmetries. A slight difference between the sizes or shapes of the breasts is normal and should not be a cause for concern.
Dr. McLain specializes in combination procedures incorporating breast augmentation and breast lift surgery to eliminate sagging or otherwise improve breast shape. He will often combine augmentation with a tummy tuck for mothers who have had their last child. Dr. McLain may recommend additional procedures for women with severe asymmetry in breast size or nipple position.
Breast Augmentation With Dr. McLain
Dr. McLain typically performs breast augmentation while the patient is under general anesthesia but may occasionally perform the procedure with IV sedation for certain patients. He offers a variety of silicone and saline implants from Allergan and Mentor. At your consultation, you can discuss your implant options with Dr. McLain. You can also sample several implants to determine the size, shape, surface and material that best fit your body type.
Depending on the patient's needs, Dr. McLain may insert the implants through one of 3 possible incisions types: transaxillary (inside the armpit), inframammary (in the fold beneath the breast) or periareolar (along the border of the areola).
Dr. McLain typically uses the following implant placements: submuscular (below the chest muscle) or subglandular (between the muscle and the breast gland tissue). He generally prefers a submuscular placement when using saline implants and for extremely thin women. This placement creates additional coverage for the implants and a more natural looking result.
Common Questions
How do I choose the right breast implants?
Dr. McLain understands that with so many great options for breast implants, it can be overwhelming to narrow down your choice. Rather than make all of the decisions on your own, Dr. McLain walks you through each of your options and offers his professional guidance to help you choose the implants that best match your body type and are most likely to give you the results you want. Although it's good to have a general idea of what you want beforehand, keep in mind that there is no universally flattering implant. One good way to begin searching for a look that you like is by perusing our photo gallery. Dr. McLain looks forward to helping you choose the size, style, material, and projection that work best for you.
How long will I need to take off work after my surgery?
The overwhelming majority of Dr. McLain's breast augmentation patients need no more than 1 week off work, although you may need additional time if your job is more physically demanding than the average office position. During the initial healing period, you'll likely need extra help around the house, especially with tasks that involve lifting and bending. Dr. McLain recommends using this time as an opportunity to rest and heal. He'll give you a more precise timeline and let you know when you can resume specific activities at your consultation.
What will my scars look like?
The appearance of your scars depends on where your incisions are made, but in every case, Dr. McLain uses careful surgical techniques to ensure your scars are quite discreet and fine. An inframammary incision yields a faint line that runs along the fold beneath the breast, where it is hidden beneath clothes and swimwear. A periareolar incision, which traces the bottom edge of the areola, blends with the natural border of the areola and is very hard to see once it's fully healed. Finally, a transaxillary incision leaves a small scar in the armpit without any marks on the breast. In any case, Dr. McLain will instruct you on caring for your incisions so they heal and fade as quickly as possible.