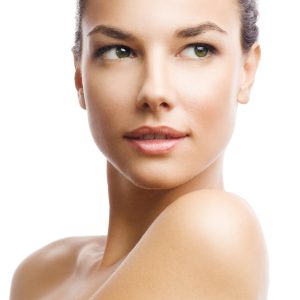 Nasal reconstruction was among the first cosmetic procedures ever developed, and it remains one of the most commonly performed today. An artfully performed rhinoplasty procedure balances the proportions of your entire face. Even subtle changes can make a big difference. Dr. Landon McLain offers rhinoplasty procedures in Huntsville, AL to sculpt your nose, bringing it into harmony with your other facial features.
Let Dr. McLain improve your self-image and confidence with rhinoplasty (nose job). People from Birmingham, AL, as well as Tennessee, Georgia and the rest of Alabama often benefit from Dr. McLain's artistic approach to cosmetic surgery. Request a consultation or call our office at (256) 429-3411.
What Can Rhinoplasty Do for You?
Rhinoplasty improves the size, shape, angle or projection of your nose to bring it into harmony with your other features. For some patients, nose surgery can also alleviate breathing problems. Restructuring your nose can have several outcomes, including:
Increasing or decreasing the overall size of the nose, including width and height
Correcting depressions or humps in the bridge
Modifying an overly bulbous, unturned or downturned tip
Decreasing nostril size
Reconstructing the nose to create symmetry and improve breathing
Photo Gallery
Click below to view real patient before and after images.
Schedule Your Consultation Today
Rhinoplasty Candidacy
How Does Rhinoplasty Work?
Dr. McLain corrects aesthetic irregularities in the nose by manipulating bone or cartilage. He may graft these tissues to improve nasal function, promote long-term strength and minimize age-related changes to the nasal tip. He may also straighten your nose or remove scar tissue resulting from trauma in order to restore breathing function.
Dr. McLain may recommend combining additional face procedures such as chin augmentation or fat transfer with rhinoplasty to improve facial proportion.
Rhinoplasty With Dr. McLain
Depending on your needs, Dr. McLain may perform either an open or closed rhinoplasty procedure.
Open Rhinoplasty
Dr. McLain typically recommends an open approach, which involves a small external incision in the columella (the flesh between the nostrils). This incision heals wonderfully and generally becomes imperceptible with time.
The open approach allows for the most precision in operating on the underlying nasal skeleton. Open rhinoplasty also creates the best opportunity for grafting if needed.
Closed Rhinoplasty
In cases that only require minimal tip work or hump reduction, Dr. McLain may recommend a closed approach. This technique requires only incisions made entirely inside the nose.
Revision Rhinoplasty
Dr. McLain is also experienced with revision rhinoplasty to correct the results of prior rhinoplasty procedures. Revision rhinoplasty patients may wish to improve their cosmetic results, and some may have post-surgical breathing problems. Secondary surgery can address these concerns.
Common Questions
I've heard rhinoplasty recovery is painful. Is that true?
Not usually. In fact, Dr. McLain's patients are often pleasantly surprised that their recuperations are much more comfortable than they anticipated. This is due to the fact that most patients do not require intranasal packing. However, soreness is common for about a week after surgery, and Dr. McLain advises patients to keep their heads elevated to reduce excessive swelling. He also prescribes medications to enhance your comfort. You may also experience a mild headache and a sense of nasal congestion for some time, but most people get back to light activities within just a few days.
How likely is it that I'll need a revision rhinoplasty?
Patients request revision rhinoplasty when they're unhappy with the results of their original procedures. Although undergoing a second surgery isn't unheard of, choosing the right surgeon before your first surgery can reduce the risk of an unfavorable result. Dr. McLain's board certifications in both cosmetic surgery and oral and maxillofacial surgery ensure that he understands the anatomy and function of the nose as it relates to the rest of the face. He listens to the desires of his patients and uses his established sense of aesthetics to create results that balance the face and look natural.
Will my insurance cover my rhinoplasty?
It depends. Insurance companies sometimes cover "functional" rhinoplasty procedures that aren't done for cosmetic reasons. If you have a documented history of chronic nasal obstruction due to a physical irregularity, such as a deviated septum, your private insurance may cover at least part of your surgery. If you're undergoing rhinoplasty for purely aesthetic reasons, it's unlikely to be covered. Dr. McLain and his team are happy to help you work with your insurance provider to find out exactly what your plan includes. We are also pleased to provide financing options to help all our patients access the procedures they desire. To learn more about your options for paying for your procedure, visit our Fees & Financing page.