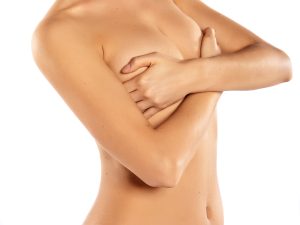 Creating firm, youthful breasts doesn't always require implants. Dr. Landon McLain offers breast lift procedures in Huntsville, AL for women who wish to improve the look, shape and feel of their breasts. Using his extensive cosmetic training and artistic view of the human form, Dr. McLain offers a comprehensive breast makeover with these procedures.
Are you ready to enhance your femininity with a breast lift? Women travel from Birmingham, as well as parts of Georgia and Tennessee, for breast enhancement with Dr. McLain. Request your consultation today or call our office at (256) 429-3411.
What Can a Breast Lift Do for You?
Factors such as pregnancy, nursing, gravity, weight loss and genetics can cause the breasts to sag and lose firmness. Overly large breasts can make a woman appear heavier than she actually is, limit her wardrobe and restrict her physical activities. Dr. McLain performs these breast procedures to:
Lift, reshape and firm the breasts, reducing sagging and restoring skin elasticity
Reduce the size of the areola – the darker skin surrounding the nipple
Reshape overly large breasts, improving the patient's proportions while eliminating back and neck pain and bra strap grooving
Photo Gallery
Click below to view real patient before and after images.
Schedule Your Consultation Today
How Do Breast Lifts Work?
A breast lift, also known as mastopexy, elevates the breasts by removing lax skin and lifting and reshaping breast tissue to increase firmness. Dr. McLain often removes excess skin from the areola to decrease its size. He will often raise the areola and nipple to a more youthful position on the breast.
Dr. McLain performs breast reduction surgery by removing excess skin and other tissue from the lower and outer portions of the breast. This is intended to reshape the breasts and remove sagging tissues.
Because a breast lift does not increase the fullness of the upper portion of the breast, Dr. McLain specializes in combining lift procedures with breast augmentation to increase fullness while improving breast shape. Dr. McLain will often remove excess fat by performing liposuction along with breast lift. He also commonly combines tummy tuck and breast lift procedures for mothers who do not plan to have more children.
Breast Lift With Dr. McLain
Your procedure will take place under general anesthesia. Dr. McLain offers 3 possible breast lift incision types: periareolar/doughnut, vertical (lollipop) and Wise (anchor) incisions. He will discuss the best incision for your needs during your consultation. Periareolar incisions are generally reserved for women with tubular breast deformity.
If you are planning a future pregnancy, Dr. McLain advises postponing your breast lift, as pregnancy and breastfeeding will likely cause further stretching and drooping. Though breasts of any size can be lifted, women with smaller breasts tend to enjoy longer-lasting results.