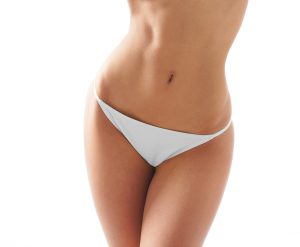 A firm and flat tummy is the hallmark of a fit body, but pregnancy and weight loss can make it difficult to achieve this ideal without surgery. A tummy tuck in Huntsville, AL with Dr. Landon McLain removes excess fat and skin and repairs separated muscles to achieve a smooth, toned abdomen. With extensive cosmetic training and a highly developed aesthetic vision, Dr. McLain can help you achieve the body you want.
People come to Dr. McLain for tummy tuck surgery from Birmingham, AL, as well as Tennessee and Georgia, for superior results and optimal care. Request your consultation today or call our office at (256) 429-3411.
What Can a Tummy Tuck Do For You?
Pregnancy, significant weight loss and genetics can have unwelcome effects on your midsection. When dieting and exercising simply aren't doing enough, a tummy tuck – also known as abdominoplasty – can do the rest by:
Tightening loose, drooping skin on the abdomen, flanks and back
Removing isolated fat deposits
Drawing in the waistline by repairing weakened or separated abdominal muscles
Reshaping the belly button, when needed
Tummy Tuck Candidacy
Photo Gallery
Click below to view real patient before and after images.
Schedule Your Consultation Today
How Does a Tummy Tuck Work?
The extent of each tummy tuck performed by Dr. McLain will depend on the amount of excess skin and the laxity of the abdominal muscles. Dr. McLain will remove excess skin and fat as needed. He may also strengthen the abdominal muscles by suturing them together.
A tummy tuck is generally a much more extensive surgery than liposuction, which solely removes fat. Dr. McLain often performs a tummy tuck along with breast augmentation or combined augmentation and breast lift procedures for mothers who are finished with childbearing and want a total body renewal.
Tummy Tuck With Dr. McLain
Whenever possible, Dr. McLain hides incisions in areas where they will be concealed by undergarments or natural skin folds. Depending on your needs, he may recommend one of the following types of abdominoplasty:
Mini Tummy Tuck
This type of abdominoplasty is reserved for patients with relatively tight skin who have minor skin laxity below the belly button and rounded lower abdomens due to weakened muscles and excess fat. Only a small percentage of tummy tuck patients fit into this category.
Full Tummy Tuck
A full tummy tuck requires a longer incision, which often extends from one side of the pelvis to the other. The most common abdominoplasty procedure, the full tummy tuck removes excess skin and stretch marks and repairs separated abdominal muscles, sometimes from the sternum to the pubis. It usually includes belly button rejuvenation and can often include liposuction to remove larger amounts of fat.
Common Questions
Can I have children after a tummy tuck?
It's generally safe to have a child after getting tummy tuck surgery. However, Dr. McLain generally advises his patients to wait until they're done having children before undergoing the surgery. This is because the physical effects of pregnancy can undo the cosmetic results of your tummy tuck, potentially leaving you with stretched skin and loose muscles that may necessitate additional surgery. If you'd like a tummy tuck but aren't sure if you'd like more children in the future, Dr. McLain would be glad to discuss all your options and find a plan that fits perfectly within your lifestyle.
What are the risks of tummy tuck surgery?
In the hands of a qualified cosmetic surgeon, abdominoplasty is extremely safe. As with other elective procedures, risks are rare and may include infections, widening of scars, blood clots, and complications related to anesthesia. Dr. McLain is an experienced surgeon who has performed many tummy tucks as well as other cosmetic procedures with beautiful, complication-free results. During your consultation, he'll discuss your own specific risk factors with you and take every precaution to make your procedure as safe and comfortable as possible. Your safety is his top priority.
How long will my results last?
Because the abdomen is not as susceptible to physical aging as other parts of the body are, your results can be remarkably long-lasting. However, it's important to avoid significant weight fluctuations to maintain your results. Keeping your weight steady by following your usual diet and exercise routine can also go a long way toward ensuring your skin doesn't begin to sag and your abdominal muscles remain firm and toned.