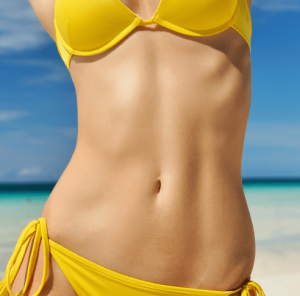 Yes! Swimsuit season is upon us, and that means it's time to make sure we look our best for those poolside excursions.
While you may lead a healthy lifestyle with a good diet and plenty of exercise, your tummy may prove to be that stubborn area that just does not respond. If that is the case, you may want to consider a tummy tuck. This is particularly true if you have excess or stretched skin in the abdominal area.
Tummy-tuck surgery, medically known as abdominoplasty, is one way to ensure that you may attain a fit-looking midsection. Abdominoplasty is a surgery that tightens the abdominal muscles and removes excess fatty tissue and skin from the midsection. The results give you a toned and sculpted stomach that will last for years to come.
There are certain things to consider when determining whether a tummy tuck is right for you. For instance, a tummy tuck is not to be considered as a weight loss plan.  Dr. McLain and his staff will help you make the right decision for you.
The ideal candidate for this surgery is someone who is at, or close to their ideal weight. Someone who is also active and healthy, but desires a more attractive midsection.
Child-bearing and significant weight fluctuations can also weaken abdominal muscles and the inner-connective tissue inside the abdomen. When this happens, tummy tuck surgery is the only way to restore a taut and youthful midsection.
Some things to consider when deciding whether a tummy tuck is right for you, include:
Physical health
Non-smoker
Within a stable, healthy weight
Realistic expectations
A fit and trim midsection is something that signifies good health and well-being. However, due to child-bearing, genetics, excessive weight loss, or various other things – a flat tummy is not always achievable through diet and exercise alone.
Dr. McLain will discuss all of this in your consultation. He will help you decide what is best for you to achieve reasonable goals with tummy tuck surgery. Call today to schedule your consultation!
Contact McLain Surgical Arts in Huntsville, AL to Schedule a Consultation
McLain Surgical Arts is a leading cosmetic surgery practice headed by Dr. Landon D. McLain MD, DMD, FACS in Huntsville, AL.  Dr. McLain is a double board certified cosmetic and oral & maxillofacial surgeon, offering a variety of procedures such as dental implants, wisdom teeth extraction, breast augmentation, liposuction, rhinoplasty, tummy tuck, facelift, Botox, and laser skin resurfacing.
For more information or to schedule a consultation call 256.429.3411 or click here.
Now taking patients from Huntsville, Scottsboro, Decatur, Madison, Athens, Florence, Cullman, AL and surrounding areas.