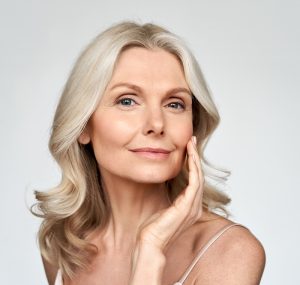 If you have reached the age of 50, you've seen aging changes that require more than good skin care. This is a time in our lives when facial rejuvenation is a good thing to consider. Dr. Landon McLain is certified to perform these procedures that can take years off your face.
What is facial rejuvenation? It encompasses several procedures that may be done separately or in conjunction with one another. Among these are:
Blepharoplasty
This is a type of surgery that corrects droopy eyelids and improves the appearance of the eyelids. Surgery can be performed on the upper lids, lower lids, or both. Eyelid surgery can treat:
Fatty deposits that appear as puffiness in the eyelids
Bags under the eyes
Loose or sagging skin on the upper eyelids
Drooping lower lids
Excess skin and fine wrinkles of the lower lids
Whether you want to improve your appearance or are experiencing functional problems with your eyelids, eyelid surgery can rejuvenate the area surrounding your lids.
Brow Lift
A brow lift, also known as a forehead lift:
Improves frown lines between the eyebrows
Reduces wrinkle lines that develop horizontally across the forehead
Raises sagging brows that are hooding the upper eyelids
Places the eyebrows in an alert and youthful position
A brow lift is one step in helping rejuvenate the upper face.
Facelift
A facelift is a surgical procedure that improves signs of aging in your lower face and neck. The procedure involves repositioning and removing skin, fat and muscle to achieve your desired result.
The loss of youthful contours in the face can be due to a variety of factors, including thinning of the skin, which happens as we age, loss of facial fat, sun damage, gravity, and smoking, as well as heredity and stress.
If you are ready for a new you and you want to look refreshed and rested, contact the South Huntsville office of Dr. Landon McLain. You can schedule a consultation with him about achieving a more refreshed appearance.
Contact McLain Surgical Arts in Huntsville, AL to Schedule a Consultation
McLain Surgical Arts is a leading cosmetic surgery practice headed by Dr. Landon D. McLain MD, DMD, FACS in Huntsville, AL.  Dr. McLain is a double board certified cosmetic and oral & maxillofacial surgeon, offering a variety of procedures such as dental implants, wisdom teeth extraction, breast augmentation, liposuction, rhinoplasty, tummy tuck, facelift, Botox, and laser skin resurfacing.
For more information or to schedule a consultation call 256.429.3411 or click here.
Now taking patients from Huntsville, Scottsboro, Decatur, Madison, Athens, Florence, Cullman, AL and surrounding areas.