Trans-axillary Breast Augmentation…what's the confusion?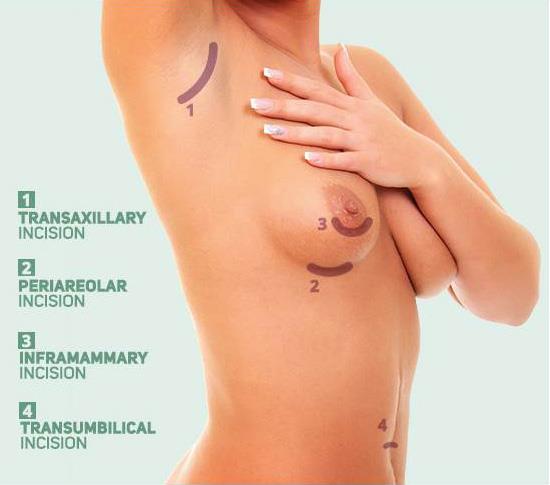 I am often surprised at what my patients tell me they read, hear or have been told about some of the more commonly performed cosmetic surgeries they are interested in.  Breast augmentation is one of the usual ones cited as confusing by some of my patients, especially regarding the different incision types.  Occasionally, patients report that some of the misinformation comes from other surgeons, even ones that I know are very experienced.  This is often regarding one of the newer techniques used for breast augmentation… the transaxillary or armpit incision.
The truth about incisions to place breast implants is fairly simple.  In most patients, if the surgeon is experienced in all types of incisions, the results should be similar regardless of the approach used.  There are 6 different approaches possible to place breast implants commonly used today.  They are…
Transaxillary
Periareolar
Inframammary
Trans-umbilical (limited to saline implants only)
Trans-abdominoplasty (through the tummy tuck incision)
Trans-mastopexy (through mastopexy or breast lift incisions
In my practice, the transaxillary, inframammary and trans-mastopexy incisions are by far the most common approaches requested.   However, the transaxillary incision seems to be a source of some confusion for patients and surprisingly, some surgeons.  I have been told by more than a few clients that they were informed that they could only get saline or very small silicone implants if they chose the armpit incision… or that there is a higher risk of asymmetry using the transaxillary technique.  That is entirely untrue.  I have personally placed large gel implants via the armpit approach and have had wonderful results with a very high rate of symmetry and patient satisfaction using this technique.  For this reason this has become my most requested approach to breast augmentation.   So why is it that this "myth" continues to be espoused.
Here are a few of my theories as to why…
Lack of any actual experience with this technique by some surgeons offering breast augmentation
Increased cost of materials required for the transaxillary technique  (i.e.  different retractors, and endoscopic instruments),
Lack of training in this particular technique in many residency programs, and
Overall, a higher degree of technical demand placed on the surgeon (the inframmamary and periareolar incisions are typically easiest to learn)
So what are the advantages of the transaxillary/armpit approach to breast augmentation?  Primarily, it is that this format keeps an incision off the breast as long as possible.  Of course, breast implants do not last a lifetime in most cases, so any replacement, adjustment or removal will require a different incision type.  There are also several studies that suggests this incision type has a lower degree of complications versus others;  specifically related to a higher chance of being able to nurse after breast augmentation, lower risk of infections and lower rates of capsular contracture.
To summarize, the armpit or transaxillary incision for breast augmentation is a wonderful option for most patients seeking breast enhancement and can be used to place both types of implants (saline or silicone), all sizes and in either plane (above or below the muscle).  If you want to keep incisions off the breast as long as possible, this may be a great option for you.   For more information on breast augmentation or other cosmetic procedures at McLain Surgical Arts please call 256.429.3411 or complete the online contact form on our website
Dr. McLain
"Do not hire a man who does your work for money, but him who does it for love of it. "