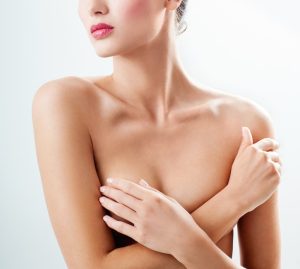 One of the key advantages in breast augmentation is that the patient will usually have the flexibility to choose between a range of implant qualities and sizes. This makes the breast augmentation surgery a highly customizable procedure to fit the patient's unique cosmetic and anatomical needs.
During the initial consultation, the cosmetic surgeon will explain the pros and cons of various breast implant types, sizes and shapes in accordance with the patient's goals. Patients in Huntsville, Madison, Florence, Decatur, Scottsboro, Cullman, Athens, Alabama, and surrounding communities have an opportunity to receive breast implants from double board certified cosmetic and oral & maxillofacial surgeon Dr. Landon McLain.
Classification of Implants
Breast implants are primarily classified into two categories: saline implants and silicone implants. The outer shell in both categories is produce with a pliable silicone material, but the inner core differs in both cases.
Saline Implants
Saline implants include a sterile saline solution in their core. These implants were originally approved by the FDA for breast augmentation, and in many cases, the cosmetic surgeon may still recommend these implants as they remain a traditionally popular option. Women above the age of 18 are eligible for using these implants.
The benefit with these implants is that the saline solution can be filled after the deflated implant has been inserted surgically into the breast pocket. This enables the surgeon to create a smaller incision. Furthermore, saline solution is completely biocompatible. Therefore, if the implant gets damaged, the leaked saline fluid will be safely absorbed by the body without posing any risk to the patient's health.
Silicone Implants
Silicone gel implants received the FDA's approval much later after all the safety concerns were addressed. But over the years, their popularity has surpassed that of saline implants. In terms of cosmetic appeal and natural touch and feel, many women prefer silicone implants over saline. The implant core is composed of a soft silicone gel, which has a high viscosity and it mimics the natural breast tissue.
Silicone implants can be provided to women over the age of 21. Double board certified cosmetic and oral & maxillofacial surgeon Dr. McLain receives patients from Huntsville, Madison, Florence, Decatur, Scottsboro, Cullman, Athens, Alabama, and nearby areas for breast implant surgery.
Gummy Bear Implants
Form stable or ultra-cohesive implants, commonly known as Gummy Bear implants are the latest addition to the range of breast implants. These implants are constituted of a highly cohesive silicone gel core, which has a superior consistency.
These implants are resilient, yet very natural looking, and retain their form and shape even under pressure. The high viscosity of the silicone gel in these implants minimizes or eliminates the risk of leakage to other parts of the body in the event of implant damage.
Implant Size/Shape/Texture
Breast implants in all types are available in sizes ranging from 120 cc to 960 cc. Implant shapes can be round or anatomical, and options are also available in implant profiles. Plain and texture implant surfaces are offered according to the patient's needs.
McLain Surgical Arts is a leading cosmetic surgery practice headed by Dr. Landon D. McLain MD, DMD, FACS in Huntsville, AL. Dr. McLain is a double board certified cosmetic and oral & maxillofacial surgeon, offering a variety of procedures such as dental implants, wisdom teeth extraction, breast augmentation, liposuction, rhinoplasty, tummy tuck, facelift, Botox, and laser skin resurfacing. For more information or to schedule a consultation call 256.429.3411 or click here. Now taking patients from Huntsville, Scottsboro, Decatur, Madison, Athens, Florence, Cullman, AL and surrounding areas.