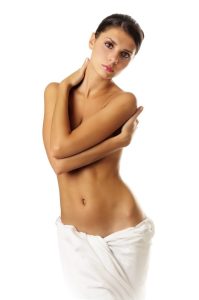 Sagging breasts happen as we age, after nursing babies, and many times after a significant weight loss. The good news is that with Breast Augmentation surgery, you can have more of the bustline of your youth.
Breast augmentation is one of the most popular cosmetic surgeries that women undergo each year. Whether you want larger breasts, or you would like to have a smaller chest, you will want to do your research.
 Dr. Landon McLain and his staff will help you as you go on this journey for a lovelier bustline. They will answer your questions and help you make the best decision for your body.
Breast augmentation, commonly referred to as a boob job, involves using breast implants or fat transfer to increase the size of your breasts. The procedure can achieve a more rounded breast shape, improve asymmetry in the breasts and restore breast volume. Breast volume is often lost after significant weight loss or pregnancy.
What breast augmentation surgery can do:
Improve balance of breast and hip contours
Increase fullness and projection of your breasts
Enhance your self-image and self-confidence.
Breast implants can last from 10 to 15 years and sometimes longer. But here are some reasons that you might consider having new implants:
Implant rupture
Hardening of the capsule around the implant
The implant drops, or becomes out of place
Swelling
Asymmetry
Breast tissue sagging as we age, or after weight loss or gain is another reason that many women may consider breast augmentation. With aging, the body produces less collagen and elastin. A breast lift can help correct sagging from pregnancy and breastfeeding, as well.
Speaking with Dr. McLain, a board-certified cosmetic surgeon is the best way to make a decision that will work for you and your body. This will also ensure that you achieve the best aesthetic results.
Contact McLain Surgical Arts in Huntsville, AL to Schedule a Consultation
McLain Surgical Arts is a leading cosmetic surgery practice headed by Dr. Landon D. McLain MD, DMD, FACS in Huntsville, AL.  Dr. McLain is a double board certified cosmetic and oral & maxillofacial surgeon, offering a variety of procedures such as dental implants, wisdom teeth extraction, breast augmentation, liposuction, rhinoplasty, tummy tuck, facelift, Botox, and laser skin resurfacing.
For more information or to schedule a consultation call 256.429.3411 or click here.
Now taking patients from Huntsville, Scottsboro, Decatur, Madison, Athens, Florence, Cullman, AL and surrounding areas.