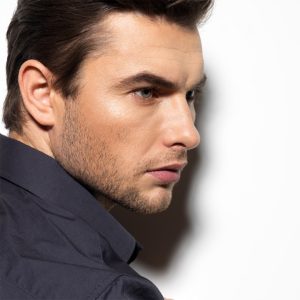 An oral and maxillofacial surgeon (OMS) performs corrective jaw surgery, or orthognathic surgery, to correct a variety of minor and major dental and skeletal irregularities, including misaligned jaws, and teeth.
Surgery can improve activities such as breathing, chewing, and speaking. Orthognathic surgery can significantly improve the patient's appearance, but it is primarily undertaken to address functional issues.  
Oral and maxillofacial surgeon Dr. Landon D. McLain provides treatments to patients in Huntsville, Madison, Florence, Decatur, Scottsboro, Cullman, Athens, Alabama, and surrounding locations.
Who May Need Jaw Surgery?
Patients experiencing the following conditions may require corrective jaw surgery:
Difficulty swallowing

Problems in chewing or biting food

Chronic jaw or jaw joint (TMJ) pain and headaches

Excessive wear of the teeth

An unbalanced facial appearance from the front or side

Facial injury

Inability to make the lips meet without straining

Open bite (the space between the upper and lower teeth when the mouth is closed)

Birth defects

Receding lower chin and jaw

A protuberant jaw

Sleep apnea (breathing issues when sleeping, such as snoring)

Chronic mouth breathing
To determine whether the patient is a candidate for corrective jaw surgery, their dentist, orthodontist, and OMS will work together. The OMS surgeon will determine which orthognathic surgery technique is most suitable and perform the actual procedure.
Patients must understand that their treatment, which will likely include orthodontics pre and post surgery, may take a number of years to complete. The OMS and orthodontist will try to provide a realistic estimate of the time required for the patient's treatment with the understanding that it is a long-term commitment on the part of the patient and their family.
Upper jaw (Maxillary Osteotomy)
In this procedure, the OMS surgeon places incisions in the upper jaw. They then move it up, down, forward, or backward, depending on the patient's needs, and secure it with screws and plates.
Maxillary Osteotomy can help correct the following conditions:
Crossbite

Open bite

A protuberant or very receded upper jaw

Too much or too little teeth showing

Reduced facial growth of the midface (midfacial hypoplasia)
The surgeon will cut the bone above the teeth to enable the whole upper jaw, including the mouth's roof and upper teeth, to move as one unit. They will move the jaw and upper teeth forward until they are correctly aligned to the lower teeth.
This procedure can be planned on a computer to establish whether additional work, such as orthodontics, will be required to address any remaining difference in the fit.
An open bite develops when extra bone grows above the molars. This causes the surface to become angled when it should be flat and even. The surgeon will correct this condition by trimming away or excising the excess bone.
After the jaw is repositioned, the surgeon will use screws and plates to hold the bone in its new placement.
Lower Jaw (Mandibular Osteotomy)
In this procedure, the OMS surgeon divides the lower jaw and moves the front section forward or backward and secures with screws and plates.
Lower jaw surgery can correct the following conditions:
Protruding lower jaw

Receding lower jaw
The surgeon places incisions behind the molars and lengthwise along the jawbone enabling the front of the jaw to move as one unit. After repositioning the jaw by moving it either forward or backward, the surgeon secures it with screws and plates to allow it to remain in position as it heals.
Recovery
The initial jaw healing usually requires around six weeks following surgery while complete jaw healing can take up to 12 weeks.
Oral and maxillofacial surgeon Dr. Landon D. McLain receives patients from Huntsville, Madison, Florence, Decatur, Scottsboro, Cullman, Athens, Alabama, and nearby areas.

McLain Surgical Arts is a leading cosmetic surgery practice headed by Dr. Landon D. McLain MD, DMD, FACS in Huntsville, AL. Dr. McLain is a double board certified cosmetic and oral & maxillofacial surgeon, offering a variety of procedures such as dental implants, wisdom teeth extraction, breast augmentation, liposuction, rhinoplasty, tummy tuck, facelift, Botox, and laser skin resurfacing. For more information or to schedule a consultation call 256.429.3411 or click here.
Now taking patients from Huntsville, Scottsboro, Decatur, Madison, Athens, Florence, Cullman, AL and surrounding areas.