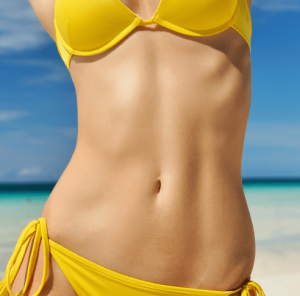 Tummy tuck is a major body contouring cosmetic surgery procedure, which should only be performed by a fully trained and experienced surgeon. Patients should spend time and effort to review the surgeon's professional credentials and visit their office for an initial consultation to learn more about their practice.
A final decision about the choice of the tummy tuck cosmetic surgeon should be made after careful deliberation.
The astute and hardworking Dr. Landon D. McLain is an accomplished cosmetic surgeon providing tummy tuck and various other surgical and non-surgical aesthetic procedures to patients in Huntsville, Madison, Florence, Decatur, Scottsboro, Cullman, Athens, Alabama, and surrounding communities in The Yellowhammer State.
Combining Science and Art
Tummy tuck body contouring procedure is not just a surgery to create a flatter abdomen. The goal of the surgeon should be sculpt the abdominal area into a desirable shape to make it more proportionate to the rest of the body. The results should enhance the overall physical profile and appear attractive and natural.  
At the same time, the surgery should be performed conservatively and in conformance to the scientific principles in order to ensure that the tummy tuck results are healthy, sustainable and help to improve the patient's self-image and self-confidence.
 These goals can be fulfilled when the surgeon combines the principles of both science and art to achieve the best outcomes in abdominoplasty. Dr. McLain distinguishes himself from most other surgeons on this account because of his formal training in the field of arts, in addition to his cosmetic surgery training.
This unique combination of skills allows Dr. McLain to have an eye for balance, symmetry, form and contour, while applying the principles of science with great precision. Patients can expect to have the best of both the worlds in terms of their final tummy tuck aesthetic results with Dr. McLain.
Customizing the Surgery
Dr. McLain will evaluate the patient's amount of excess skin and the laxity of abdominal muscles in order to create a customized tummy tuck surgery plan. He will not adopt a cookie cutter or off the rack treatment approach, and will strive to achieve most effective outcomes in a less invasive manner.
 Depending on the patient's unique needs, Dr. McLain may perform a tummy tuck along with breast augmentation or combined augmentation and breast lift procedures for mothers who are finished with childbearing and want a comprehensive body enhancement.
One of the goals of Dr. McLain in performing tummy tuck surgery will be to conceal the incisions in discreet areas or natural skin folds so that subsequent scarring is minimally visible. He may recommend a partial abdominoplasty or mini tummy tuck for patients who only have limited skin laxity below the navel and a rounded lower abdomen due to weak muscles and excess fat.
Adopting the Latest Techniques
The dedicated and sagacious Dr. McLain will adopt cutting edge surgical techniques and technology to create safe and desirable outcomes in every tummy tuck procedure. He constantly updates himself with the latest developments and innovations in the field and incorporates them into his practice as needed.
 Dr. McLain receives patients from Huntsville, Madison, Florence, Decatur, Scottsboro, Cullman, Athens, Alabama, and other areas in this part of south eastern America for tummy tuck surgery.
McLain Surgical Arts is a leading cosmetic surgery practice headed by Dr. Landon D. McLain MD, DMD, FACS in Huntsville, AL. Dr. McLain is a double board certified cosmetic and oral & maxillofacial surgeon, offering a variety of procedures such as dental implants, wisdom teeth extraction, breast augmentation, liposuction, rhinoplasty, tummy tuck, facelift, Botox, and laser skin resurfacing. For more information or to schedule a consultation call 256.429.3411 or click here.
Now taking patients from Huntsville, Scottsboro, Decatur, Madison, Athens, Florence, Cullman, AL and surrounding areas.