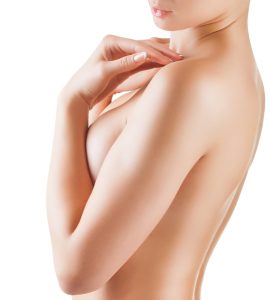 Breast implant surgery currently ranks as the number one cosmetic surgery procedure in the US. At the time of pre-operative consultation, the surgeon will discuss various aspects of the procedure, including different implant options. The patient can make the best decisions in close consultation with the surgeon.
In many cases, the surgeon may prefer to present breast implant before and after photographs during the first consultation. This will help the patient to understand the potential benefits and effectiveness of breast implants. Experienced cosmetic surgeon Dr. Landon McLain provides breast implant surgery to patients in Huntsville, Madison, Florence, Decatur, Scottsboro, Cullman, Athens, Alabama, and surrounding locations in The Yellowhammer State.
What are Breast Implant Before and After Images?
Before and after images in case of breast implant surgery refer to a pair or group of photos pertaining to a previous patient who has undergone the same surgery with successful results. The photos include images taken before the surgery and after the surgery at a stage when the post-op swelling and bruising has subsided and full effects of the procedure are visible.
The surgeon will take care to ensure that the photos are acquired with the patient's clear consent, and presented before new patients in a discreet manner. The patient's identity may be kept confidential as per the established protocol.
The surgeon's only purpose in this exercise is to use these photos as a visual tool to educate new patients about what the breast implant surgery can or cannot do for them.
Benefits
When a woman seeks breast implant surgery, she may only have a limited idea of how the procedure can enhance her breast appearance, and whether it will meet her personal aesthetic needs and goals. Each woman may have different requirements in terms of the type, size and shape of the implants.
Some women may also need breast lift in conjunction with implants in order to achieve the desired level of results. In each case, the patient will be in a better position to make the right choices when she has access to breast implant surgery before and after pictures.
Keeping Reasonable Expectations
Cutting edge and focused surgeons know that highest patient satisfaction levels are typically achieved in cases where the candidate has a positive thought process, clear aesthetic priorities and reasonable expectations. Therefore, they prefer to present breast implant before and after pictures at the very outset.
Once the patient reviews the photos, she can have a fair idea of what to expect and what not to expect from breast implants. If she is bothered about sagging breasts, she may have to choose a combination of implants and breast lift surgery.
Photos on the Website
Some surgeons may like to present breast implant before and after pictures on their practice website in a dedicated Photo Gallery section which Dr. McLain does. If the surgeon has a presence on social media, they may also consider sharing the photos with a wider audience through social media networks such as Facebook, Google+, Pinterest, and Instagram.
What has really changed the game is digital technology. This technology has spread valuable information and images all over the world at lightning speed. But the most people most likely interested in this are possible patients living in this area of the country in Alabama. Moreover, the beauty of these website pictures is they enable anyone to make a critical decision without making a sound.
The Internet has made the world flatter and any patient from any walk of life can see these pictures so that the patient can apply what they see to their own body. This gives the patient more information so if they do sign up they can do so with more confidence and less anxiety. This is better for everyone involved and means the patients do not have to rely so much on verbal communication with the surgeon during the consultation since they already know what to expect. The consultation is still necessary but these pictures are pivotal and bring everyone closer together.
Dr. McLain receives patients from Huntsville, Madison, Florence, Decatur, Scottsboro, Cullman, Athens, Alabama, and other communities and cities in area of the state for breast implant surgery.
McLain Surgical Arts is a leading cosmetic surgery practice headed by Dr. Landon D. McLain MD, DMD, FACS in Huntsville, AL. Dr. McLain is a double board certified cosmetic and oral & maxillofacial surgeon, offering a variety of procedures such as dental implants, wisdom teeth extraction, breast augmentation, liposuction, rhinoplasty, tummy tuck, facelift, Botox, and laser skin resurfacing. For more information or to schedule a consultation call 256.429.3411 or click here.
Now taking patients from Huntsville, Scottsboro, Decatur, Madison, Athens, Florence, Cullman, AL and surrounding areas.