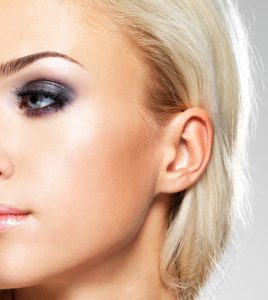 Otoplasty, or ear reshaping surgery, is a cosmetic surgery procedure to correct the size and shape of the ears. During the pre-op consultation, the surgeon will inform the patient on various aspects of the procedure.
They may also show the patient before and after photos of previous otoplasty patients. The main concern of a responsible surgeon will be to inform the patient about otoplasty enabling them to make a judicious choice.
Cosmetic surgeon Dr. Landon D. McLain provides ear surgery to patients in Huntsville, Madison, Florence, Decatur, Scottsboro, Cullman, Athens, Alabama, and surrounding communities.
Otoplasty Before and After Pictures
Otoplasty 'before and after' images refer to pictures of previous patients who have successfully undergone ear reshaping surgery.
These pictures include images taken before the procedure and at a later stage, when the post-surgical swelling and bruising have resolved and the complete effects of the ear surgery manifest.
The surgeon will acquire these pictures with the express consent of the patient and show them to new patients in a discreet manner. They will not disclose the identity of the patient according to standard norms. The sole reason for the surgeon displaying these pictures is to allow new patients to understand the potential outcomes of this surgical procedure.
The sensational aspect of these images is that they can be seen from anywhere. They can even be scene on some lake on a boat as long as you have a WiFi connection.
Benefits
The ears are a very noticeable part of the body. Patients understandably feel anxious about otoplasty and are curious about how their ears and face will be affected by this procedure.
Some patients only require minor ear pinning while others may need major ear correction, such as the treatment of birth defects. Irrespective of the circumstances, the patient will be able to make a better choice after viewing otoplasty before and after images.
Now there is only one image pertaining to this particular surgery – otoplasty – on the website right now but that is all that is really needed. The poignant different is acute. Some people say that some people have big ears when they stick out but they really don't have big ears it's just that their ears stick out.
Well – with a skilled surgeon that can be rectified.
Developing Realistic Expectations
Experienced surgeons understand that patients with a positive mindset, precise cosmetic goals, and realistic expectations can achieve the highest levels of satisfaction.
Therefore, they often prefer to show these pictures to new patients at the time of the initial consultation itself.
Once the patient develops reasonable expectations from the ear reshaping surgery, they can make a more enlightened decision. Such patients are more satisfied with the results of the surgery and are better able to appreciate the outcomes of the procedure in a better way.
Digital Versions of Before and After Photos
If the plastic surgeon has their own practice website, they can include ear reshaping before and after pictures on the site under a section called "Photo Gallery" which is the case here as has been mentioned. But it cannot be mentioned enough. With this stellar image now anyone can understand what to expect and why this surgery is fundamental to so many people.
Potential patients can see the digital versions of these pictures and then decide on seeking a consultation with the plastic surgeon.
Sharing Otoplasty Before and After Photos on Social Media Platforms
Social media platforms enjoy near-universal appeal today. If 'before and after' images are shared through these channels, it can significantly increase public awareness on procedures such as otoplasty. Pamphlets are not needed, vague images in some marketing brochure are a thing of the past as well.
With digital technology images are clearer than ever and this means that the surgeon can spend more time working on their craft and helping people out rather than explaining things to potential patients. With that said – Dr. McLain has excellent pre-surgery consultation with patients and addresses all their concerns.  
Image sharing platforms such as YouTube, Instagram, Facebook, and Pinterest enjoy billions of active users. Surgeons can use the massive appeal of these forums to share ear reshaping pictures with their target audiences.
Cosmetic surgeon Dr. Landon D. McLain receives patients from Huntsville, Madison, Florence, Decatur, Scottsboro, Cullman, Athens, Alabama, and nearby areas for otoplasty.
McLain Surgical Arts is a leading cosmetic surgery practice headed by Dr. Landon D. McLain MD, DMD, FACS in Huntsville, AL. Dr. McLain is a double board certified cosmetic and oral & maxillofacial surgeon, offering a variety of procedures such as dental implants, wisdom teeth extraction, breast augmentation, liposuction, rhinoplasty, tummy tuck, facelift, Botox, and laser skin resurfacing. For more information or to schedule a consultation call 256.429.3411 or click here.
Now taking patients from Huntsville, Scottsboro, Decatur, Madison, Athens, Florence, Cullman, AL and surrounding areas.