Oral Surgeon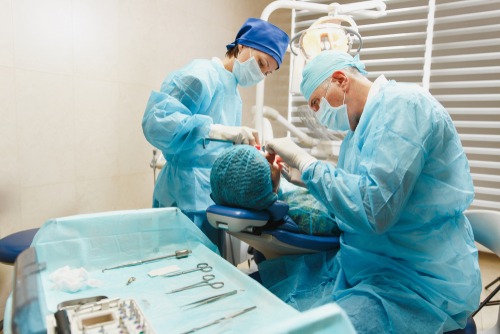 The choice of an oral surgeon is an important decision that will have a lasting effect on the patient's life. A patient may receive less than a perfect outcome in the hands of a less experienced or less trained surgeon.  
This can cause disappointment and at times, additional money and time will have to be required on a revision surgery. For this reason, it is crucial for the patient to work with a highly trained and experienced oral and maxillofacial surgeon. 
The appearance of an individual is closely related to the anatomy beneath. Regardless of whether a person requires cosmetic, oral, or facial surgery, they should seek a surgeon who has a thorough understanding of the underlying tissues and structures when making cosmetic improvements and the other way around.  
Double-certified, fellowship-trained, cosmetic, and oral & maxillofacial surgeon Dr. Landon D. McLain focuses on improving both form as well as function. Dr. McLain provides oral surgery to patients in Huntsville, Madison, Florence, Decatur, Scottsboro, Cullman, Athens, Alabama, and surrounding communities. 
Personal Rapport and Comfort Level
The patient should closely assess how the surgeon and their staff make them feel. Every surgical procedure has certain associated risks which can create impediments in the patient's journey to accomplish their desired appearance.  
Therefore, it is crucial for the patient to choose an oral surgeon with whom they are fully comfortable with and can trust. 
The patient should ask themselves the following questions: 
How do I feel when engaging with this surgeon?

 

Do I feel that this oral surgeon will recommend safe and effective procedures for me?

 

Do I believe that I can unhesitatingly ask the surgeon questions and express concerns throughout the oral surgery process?

 

Will I feel comfortable enough to disclose my health history and lifestyle habits to this surgeon?

 
Questions to Ask During the Consultation
Ideally, the patient should make a list of any questions that they may have in advance of their pre-operative consultation. Certain facets that they can include in their list of questions are as follows: 
Information on the credentials and qualifications of the oral surgeon

 

Details on the surgical facility

 

Emergency protocols

 

Risks related to oral surgery

 
The number of oral surgeries that the surgeon has previously undertaken

 

Alternatives to oral surgery

 

Before and after images and testimonials of previous patients

 
It is wise to choose a surgeon who is adept in the most advanced techniques for oral surgery. The use of cutting-edge procedures will offer the most benefit to the patient as the latest techniques are often an improvement over previous ones.  
Innovative solutions enable procedures to be less painful and minimally invasive with lesser risk and quicker recovery times. 
Focus on Customization
The judicious Dr. McLain strongly believes in individualizing procedures such as oral surgery to address the unique needs of the patient to increase the odds that the surgery satisfies the patient the most.  
He does not adopt a "one-size-fits-all" approach to oral surgery and takes the time to evaluate the patient's health condition, mouth and face stricture, and cosmetic needs as well as encourages them to share their inherent aesthetic aspirations. Dr. McLain will develop a customized and comprehensive surgical plan based on these inputs.  
Dr. McLain creates a fine balance between the principles and science and art in a way that helps create appealing results that are functionally superior as well as attractive, safe, sustainable, and natural-looking.  
Oral and maxillofacial surgeon Dr. Landon D. McLain receives patients from Huntsville, Madison, Florence, Decatur, Scottsboro, Cullman, Athens, Alabama, and nearby areas for oral surgery. 
McLain Surgical Arts is a leading cosmetic surgery practice headed by Dr. Landon D. McLain MD, DMD, FACS in Huntsville, AL. Dr. McLain is a double board certified cosmetic and oral & maxillofacial surgeon, offering a variety of procedures such as dental implants, wisdom teeth extraction, breast augmentation, liposuction, rhinoplasty, tummy tuck, facelift, Botox, and laser skin resurfacing. For more information or to schedule a consultation call 256.429.3411 or click here.
Now taking patients from Huntsville, Scottsboro, Decatur, Madison, Athens, Florence, Cullman, AL and surrounding areas.