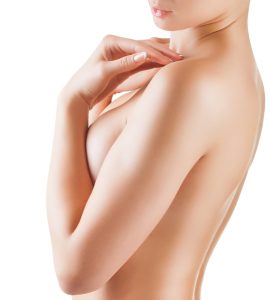 Breast augmentation continues to have a very high success rate as long as the procedure is performed by a fully trained and experienced cosmetic surgeon. While the surgical techniques and quality of implants have improved over the years, certain risks remain inherent to breast augmentation just like any other surgery.
During the pre-operative consultation, the surgeon will explain about the potential risks and complications and help the patient make a well-considered choice. Double board certified cosmetic and oral & maxillofacial surgeon Dr. Landon McLain provides breast augmentation to patients in Huntsville, Madison, Florence, Decatur, Scottsboro, Cullman, Athens, Alabama, and surrounding communities.
Implant Risks
Some of the risks in breast augmentation surgery are unique to the procedure because it involves placement of saline or silicone breast implants.
Capsular Contracture
Following the placement of implants in the breast tissue, the natural healing mechanism of the body will trigger the formation of scar tissue around the implants. In some cases, the scar tissue may contract or become hard, putting excess pressure on the implant.
The implant may be squeezed due to the scar tissue tightening. This may result in loss of shape, damage or malpositioning of the implant. Breast capsule hardening may also cause pain. In this situation, breast implant removal or replacement may be advised by the cosmetic surgeon.
Implant Rippling
If the breast skin is not sufficient to cover the implant comfortably, it may cause wrinkles or folds in the implant. This will create a rippling effect and distort the natural breast appearance. Implant ripping risk can be minimized by choosing the appropriate implant size according to the skin availability.
Double board certified cosmetic and oral & maxillofacial surgeon Dr. McLain receives patients from Huntsville, Madison, Florence, Decatur, Scottsboro, Cullman, Athens, Alabama, and nearby areas for breast augmentation.
Implant Rupture or Shifting
If a saline breast implant ruptures, the deflation will immediately occur and become visible. But in case of a silicone implant rupture, the damage may only become known during an MRI exam. In rare cases, the implant may be intact, but it may shift from its original place soon after the surgery is performed.
The risk of displacement increases in case of large sized implants, but the risk of rupture exists in every type of implant. Breast revision surgery may be required to correct these conditions.
Surgery-related Risks
These risks are common to all surgeries, including breast augmentation.
Infection
Infection risk is higher during and immediately following the breast implant procedure. The surgical facility must maintain a sterile environment to minimize this risk. In the early recovery period, the patient should take proper care to keep the incision areas clean and dry.
Numbness or Change of Sensation
Altered sensation, numbness or sensitivity may occur in the nipple area after breast augmentation surgery. In most cases, the condition is temporary, but sometimes the problem may persist for a long time or become permanent.
Unfavorable Scarring
Some degree of scarring is unavoidable, but a skilled surgeon can minimize the risk by placing the incisions in inconspicuous locations such as the breast crease or the armpit.
McLain Surgical Arts is a leading cosmetic surgery practice headed by Dr. Landon D. McLain MD, DMD, FACS in Huntsville, AL. Dr. McLain is a double board certified cosmetic and oral & maxillofacial surgeon, offering a variety of procedures such as dental implants, wisdom teeth extraction, breast augmentation, liposuction, rhinoplasty, tummy tuck, facelift, Botox, and laser skin resurfacing. For more information or to schedule a consultation call 256.429.3411 or click here. Now taking patients from Huntsville, Scottsboro, Decatur, Madison, Athens, Florence, Cullman, AL and surrounding areas.