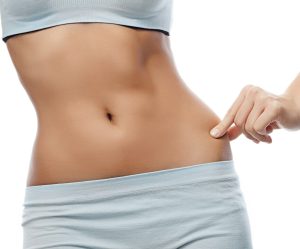 Are diet and exercise not giving you the flat tummy that you would like to have? Then you may want to consider a tummy tuck.
Abdominoplasty, or a tummy tuck, will flatten the abdomen and tighten the abdominal muscles. It is not the same as liposuction, although you may add the liposuction procedure to the tummy tuck surgery.
A tummy tuck will remove excess skin while tightening loose or separated abdominal muscles to give you a more smooth and toned physique. However, if you also have areas of stubborn fat, such as love handles, a tummy tuck alone is not likely to be the most effective option.
Liposuction, a body contouring procedure, uses suction to remove pockets of fat that are not responding to diet and exercise. While liposuction can get rid of love handles, back rolls and baby fat, it won't address excess skin or muscle laxity, which often accompany a pregnancy or big weight loss.
So, to achieve your best look, combining the two procedures may be your best option. Dr. McLain will discuss your best options during your consultation.
There are benefits to adding liposuction to the tummy tuck including you will only need to schedule one surgery, and you will have only one recovery period.
Combining a tummy tuck with liposuction can maximize your body contouring results in a way that isn't possible with either procedure on its own. Excess fat and loose skin often go hand in hand, so treating both of these cosmetic concerns at the same time is often the most efficient and effective approach.
Contact McLain Surgical Arts in Huntsville, AL to Schedule a Consultation
McLain Surgical Arts is a leading cosmetic surgery practice headed by Dr. Landon D. McLain MD, DMD, FACS in Huntsville, AL. Dr. McLain is a double board certified cosmetic and oral & maxillofacial surgeon, offering a variety of procedures such as dental implants, wisdom teeth extraction, breast augmentation, liposuction, rhinoplasty, tummy tuck, facelift, Botox, and laser skin resurfacing.
For more information or to schedule a consultation call 256.429.3411 or click here.
Now taking patients from Huntsville, Scottsboro, Decatur, Madison, Athens, Florence, Cullman, AL and surrounding areas.