Capsular Contracture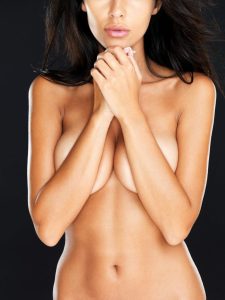 Implant rupture and capsular contracture are two key reasons why breast implant removal cosmetic surgery may become a medical necessity. A hole or tear in the implant can cause the saline or silicone filling to leak out from the implant shell. In case of capsular contracture, the tightening scar tissue can cause pain or discomfort in the breasts. Breast implant removal will eliminate these problems.
McLain Surgical Arts, led by cosmetic surgeon Dr. Landon D. McLain, provides cosmetic and reconstructive procedures to patients in Huntsville, Madison, Florence, Decatur, Scottsboro, Cullman, Athens, Alabama, and surrounding communities.
Removal of Saline or Silicone Implants
When a saline implant gets ruptured, it will deflate within a few hours and the saline solution will get reabsorbed by the body. While it poses no threat to your health, your breast shape will appear distorted because of implant deflation. If the silicone implant gets damage, the implant volume will usually remain unaffected because the silicone gel has a high viscosity, and will stay contained in the implant capsule.
In a saline implant deflation, you can have the breast implant removal cosmetic surgery under local anesthesia to take out the implant with a small cut. But prior to that, you and your surgeon should closely evaluate whether your breast tissue is sagging or has stretched out over the years.
Depending on your personal cosmetic goals, your surgeon may recommend a breast lift to be performed along with implant removal. This procedure will involve general anesthesia and will more elaborate than just a saline implant removal.
In case of a silicone implant removal, the surgeon will carefully consider which surgical technique to apply in your case. In case of implant rupture, the silicone material must be cleared from the implant pocket, which will probably involve general anesthesia. From an external exam or even with a radiology scan, it may not be easy to determine the actual condition of the silicone implant following a rupture or capsular contracture.
Once the surgery begins, your surgeon will be able to decide whether to perform a total or partial capsulectomy or apply the en bloc capsulectomy technique. In each case, the surgeon's goal will be to ensure your 100% safety and obtain the best medical and aesthetic outcomes.
Breast Implant Removal with Breast Lift
Aging, pregnancy, gravitational forces, hormonal changes and other factors are likely to loosen your breast tissue over time, particularly if you have been using larger sized breast implants. If the breast skin has lost a considerable amount of elasticity, the skin may not retract to its youthful position after the breast implant removal.
In this situation, your surgeon may recommend that you should undergo breast implant removal combined with a breast lift surgery. Breast lift will involve excision of the loose skin, tightening of the breast tissue and muscle, and sometimes even the repositioning or resizing of areolas. This will restore a youthful and tighter looking breast appearance.
Cosmetic surgeon Dr. Landon D. McLain receives patients from Huntsville, Madison, Florence, Decatur, Scottsboro, Cullman, Athens, Alabama, and nearby areas for safe and proven cosmetic procedures.
Contact McLain Surgical Arts in Huntsville, AL to Schedule a Consultation
McLain Surgical Arts is a leading cosmetic surgery practice headed by Dr. Landon D. McLain MD, DMD, FACS in Huntsville, AL. Dr. McLain is a double board certified cosmetic and oral & maxillofacial surgeon, offering a variety of procedures such as dental implants, wisdom teeth extraction, breast augmentation, liposuction, rhinoplasty, tummy tuck, facelift, Botox, and laser skin resurfacing.
For more information or to schedule a consultation call 256.429.3411 or click here.
Now taking patients from Huntsville, Scottsboro, Decatur, Madison, Athens, Florence, Cullman, AL and surrounding areas.