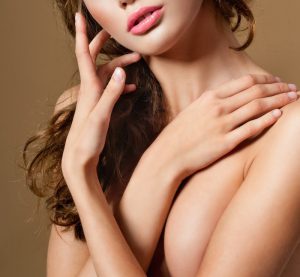 Women usually seek breast augmentation from a cosmetic surgeon purely for aesthetic reasons. A woman may want to increase the size of naturally small breasts, create a more voluptuous figure, or improve the symmetry between the breasts. In some cases, the patient may require breast augmentation as part of breast reconstruction following a mastectomy.
Dr. Landon McLain is a double board certified cosmetic and oral & maxillofacial surgeon providing breast augmentation and various other surgical and non-surgical procedures. Dr. McClain will assess the candidacy carefully before recommending breast augmentation to a patient. He provides breast augmentation to patients in Huntsville, Madison, Florence, Decatur, Scottsboro, Cullman, Athens, Alabama, and surrounding communities.
Need for Breast Enlargement
The cosmetic surgeon will first want to understand why the patient is seeking breast augmentation, and what about her breasts may be bothering her. The patient alone can answer this question in the best possible way and share her innate cosmetic needs and goals. Some of the reasons why women seek breast enlargement include:
To create a more feminine and desirable figure

To make the breasts more even looking

To restore breast volume following weight loss or pregnancy

To make the breasts more proportionate to the rest of the body

To correct birth deformities in one or both breasts

To enhance breast size to address micromastia

To reconstruct one or both breasts after mastectomy

To improve self-confidence and body image
An ideal candidate will have realistic expectations to have these needs fulfilled. The surgeon will encourage her to review as many breast augmentation 'before and after' images as possible in order to develop realistic expectations. Double board certified cosmetic and oral & maxillofacial surgeon Dr. McLain receives patients from Huntsville, Madison, Florence, Decatur, Scottsboro, Cullman, Athens, Alabama, and nearby areas for breast implants.
Health Requirements
The candidate should be in fairly good health in order to receive breast implant surgery. The surgeon will review her detailed medical records, assess the breast anatomy and skin laxity in the area, and may also order specialized mammograms, if necessary. The patient should be forthcoming about her current health condition for her own safety.
The patient must disclose any habit of smoking or drinking, and provide a list of prescription and non-prescription medications and supplements to the surgeon. A suitable candidate will be a non-smoker or committed to stop smoking and following surgeon's instructions on medications.
The patient's body weight should ideally be stable and moderate. She should not be suffering from bleeding tendency or any ongoing infections, and should not be currently pregnant or breastfeeding. She should also be free from any cancerous or pre-cancerous breast tissue.
Age Requirements
The FDA has approved the use of silicone breast implants for women above the age of 21, and saline implants for women above the age of 18. In exceptional cases, women below the age of 18 may receive breast augmentation surgery if it is medically necessary to treat congenital deformities, or a breast tissue injury, or perform breast reconstruction.
McLain Surgical Arts is a leading cosmetic surgery practice headed by Dr. Landon D. McLain MD, DMD, FACS in Huntsville, AL. Dr. McLain is a double board certified cosmetic and oral & maxillofacial surgeon, offering a variety of procedures such as dental implants, wisdom teeth extraction, breast augmentation, liposuction, rhinoplasty, tummy tuck, facelift, Botox, and laser skin resurfacing. For more information or to schedule a consultation call 256.429.3411 or click here. Now taking patients from Huntsville, Scottsboro, Decatur, Madison, Athens, Florence, Cullman, AL and surrounding areas.