Xeomin Injections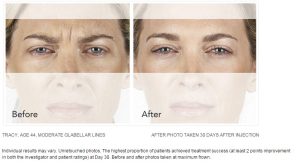 Xeomin is a botulinum toxin type A compound, which is approved for treating wrinkles, frown lines, and the vertical parallel lines between the brows. Xeomin and Botox work on the exact same mechanism of blocking signals from the nerves, which causes the muscles to relax. This helps in smoothing out wrinkles.
The primary difference between Xeomin and Botox is that Botox contains inactive accompanying proteins, where as Xeomin does not contain any additives. Xeomin contains a more purified or naked form of botulinum toxin without any accessory proteins.
Xeomin doesn't require foreign accessory proteins for functioning. You can get the same results without injecting yourself with unnecessary proteins. Cosmetic surgeon Dr. Landon D. McLain provides Xeomin wrinkle reduction injections to patients in Huntsville, Madison, Florence, Decatur, Scottsboro, Cullman, Athens, Alabama, and surrounding communities.
Xeomin Benefits
Smoothens the appearance of lines and wrinkles between the eyebrows, in the forehead, around the eyes, and around the mouth
Blocks signals from the nerve to the muscles, which causes muscles to relax and prevents further wrinkling
Fast recovery time, short treatment time, and noticeable results
Less likely to cause allergies because of no added fillers
Xeomin is Naked Botox
Xeomin is commonly called naked Botox, because of the purity of the product. Botox contains associated proteins that results in desensitization of other proteins. This is similar to getting allergy shots that result in desensitization. This is one of the reasons why Botox stops working after a few years. Naked Xeomin doesn't contain these proteins, which is why desensitization doesn't occur with the product.
Xeomin Treatment Expectations
Xeomin is a fairly simple treatment. The actual process doesn't take more than 10 minutes. Your treatment provider will numb the area. But, you may feel a slight pinch when the needle is injected. The number of injections will differ depending on the treated area size.
Aftercare
You would need to keep your hands away from your face for three hours after the injection. You should avoid lying down or performing any vigorous activity for 4 – 6 hours. This is to make sure the product remains where it is supposed to go and doesn't track anywhere else.
You may need to wait for a full week to see complete results. Good and bad results can be seen 3 – 7 days following the treatment. Results usually last for about 3 months. Problems associated with the injection are usually because of the treatment provider and not the product.
Final Word
Xeomin doesn't contain any additive proteins or the extra stuff. This is the perfect option for you if additives ring an alarm in your mind. Xeomin is an accessible wrinkle-reversing and wrinkle-prevention treatment that is significantly more affordable compared to various types of invasive treatments for facial rejuvenation.
Your first goal should be to choose a skilled and experienced treatment provider with a proven track record of performing different surgical and non-surgical aesthetic procedures. Cosmetic surgeon Dr. Landon D. McLain receives patients from Huntsville, Madison, Florence, Decatur, Scottsboro, Cullman, Athens, Alabama, and nearby areas for Xeomin injectables to treat facial signs of aging.
Contact McLain Surgical Arts in Huntsville, AL to Schedule a Consultation
McLain Surgical Arts is a leading cosmetic surgery practice headed by Dr. Landon D. McLain MD, DMD, FACS in Huntsville, AL. Dr. McLain is a double board certified cosmetic and oral & maxillofacial surgeon, offering a variety of procedures such as dental implants, wisdom teeth extraction, breast augmentation, liposuction, rhinoplasty, tummy tuck, facelift, Botox, and laser skin resurfacing.
For more information or to schedule a consultation call 256.429.3411 or click here.
Now taking patients from Huntsville, Scottsboro, Decatur, Madison, Athens, Florence, Cullman, AL and surrounding areas.