Breast Augmentation Mastopexy (BAM)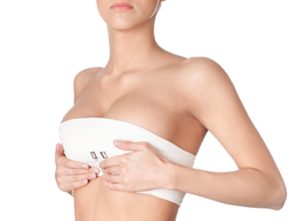 Many women want to increase the size of their breasts or enhance its shape for cosmetic purposes. You can correct sagging breasts and enhance their shape while addressing other issues with a breast augmentation mastopexy procedure. BAM essentially combines two highly popular breast surgeries in one: breast lift and augmentation.
The combined procedure is often more effective in creating more comprehensive and natural looking results. Your surgeon will determine during the initial consultation whether you make for an ideal candidate for this cosmetic plastic surgery or not.
Cosmetic surgeon Dr. Landon D. McLain provides breast augmentation mastopexy to patients in Huntsville, Madison, Florence, Decatur, Scottsboro, Cullman, Athens, Alabama, and surrounding locations.
Surgical Technique for BAM
Breast augmentation mastopexy procedure utilizes several different plastic surgery techniques. Your surgeon will use the most appropriate techniques to attain your individual aesthetic goals and requirements. The cosmetic surgeon will also take into account your breast anatomy and extent of droopiness while determining the best technique. Incisions don't need to be large in cases where breast sagginess is limited.
Your surgeon will place particular attention on creating incisions in discreet locations so that any scarring is minimally visible. You should be able to wear clothes of your choice, including bikinis and low cut tops following your surgery (after post-surgical healing).
Incisions are usually placed in the following ways:
Breast crease incisions: Your surgeon will make the incision in your breast fold. This site is concealed making it a popular choice.
Peri-areolar incision: Incisions in this case are made around the areola borders.
Vertical incision: Your surgeon will make a vertical incision starting from the areolar bottom all the way to the breast fold. Scars can be a bit more conspicuous in this incision as compared to others.
Breast Augmentation Mastopexy Surgical Procedure
You will be placed under general anesthesia for the purpose of the surgery, which usually takes 2 to 3 hours. Once you are under anesthesia, the surgeon will start making the incisions. Generally, the breast implants are placed before addressing droopy breasts.
Your surgeon's primary goal will be to use the same incisions for inserting implants and lifting the breasts. This will help reduce scarring while making the surgery less invasive. The surgeon will excise excess breast tissue to create a pocket in your breasts. This is where the implants get placed under your pectoral muscles.
The plastic surgeon will make sure the breast shape and symmetry is according to the pre-surgery plan. The next step is to trim any loose skin and reshape the breasts. This is done by manipulating the breast tissue. If you want your nipple-areola complex will also be resized and repositioned during this step to make them appear more youthful and natural.
The surgeon will proceed to close the incisions with sutures once the surgery is completed. Your breasts will be wrapped in bandages and temporary drain tubes may be used to collect excess fluids for a few days. Cosmetic surgeon Dr. Landon D. McLain receives patients from Huntsville, Madison, Florence, Decatur, Scottsboro, Cullman, Athens, Alabama, and nearby areas for breast augmentation mastopexy.
Contact McLain Surgical Arts in Huntsville, AL to Schedule a Consultation
McLain Surgical Arts is a leading cosmetic surgery practice headed by Dr. Landon D. McLain MD, DMD, FACS in Huntsville, AL. Dr. McLain is a double board certified cosmetic and oral & maxillofacial surgeon, offering a variety of procedures such as dental implants, wisdom teeth extraction, breast augmentation, liposuction, rhinoplasty, tummy tuck, facelift, Botox, and laser skin resurfacing.
For more information or to schedule a consultation call 256.429.3411 or click here.
Now taking patients from Huntsville, Scottsboro, Decatur, Madison, Athens, Florence, Cullman, AL and surrounding areas.