Out-of-Town Patients Visiting Huntsville, AL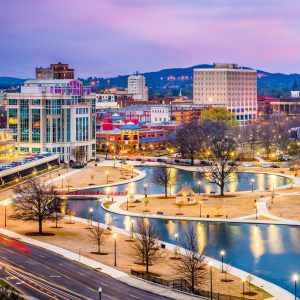 Many patients now choose to travel for their cosmetic treatments in order to receive the best possible care and enjoy a quiet and anonymous recovery period. No longer are patients limited to their own local area when looking for the most trusted and experienced doctors to meet their cosmetic needs.
As a board certified plastic surgeon in Huntsville, Dr. Landon D. McLain MD, DMD, FACS works with patients from all over the world who want expert care in a private, convenient setting. McLain Surgical Arts' staff is dedicated to making the process positive for our out-of-town patients, and we will work with you every step of the way to ensure your travels and surgical experience are safe, successful, and convenient.
If this is your first time in Huntsville, here is a little information about our city:
The Huntsville metro area is the third largest in Alabama, with a population of nearly half a million people. Huntsville, which sprawls at the foot of a mountain in North Alabama, is itself home to about 200,000 residents. The city is nicknamed "The Rocket City" for its historical association with US space missions. Huntsville has been a part of space technology development since the 1950s.
Weather
Summers in Huntsville are hot and humid, but the temperature rarely goes above 100°F. Strong thunderstorms may appear from nowhere in the afternoons. Autumn is a fairly comfortable season in Huntsville. First frost normally occurs around Halloween. In winter, snow is a possibility, but not a guarantee.
Airport
Huntsville International Airport is located 15 miles west of town. Flights are available to and from cities such as Dallas, Atlanta, Washington, DC, Cincinnati, Denver, Memphis, Detroit, Charlotte, Chicago, Houston, and New York City.
Hotels Nearby
Embassy Suites Huntsville
This 10-story hotel opened in 2006. It offers excellent views of the city, downtown, and the skyline. It is connected by a "skybridge" to the Von Braun Center.
The Westin Huntsville
Located near the Cummings Research Park and adjacent to Bridge Street Town Center in Huntsville, Alabama, this hotel features an indoor and outdoor pool and numerous other amenities. Sensational shopping locations are at a walkable distance.
Historic Districts
Twickenham Historic District
The Twickenham and Old Town historic districts are located east of downtown. They feature large homes that were constructed as early as two centuries ago. In the months of June and July, you can take free guided walking tours of the area every Saturday.
Five Points Historic District
This area is an example of early 20th-century neighborhood, and is marked by numerous architectural styles, including California Bungalow, Queen Anne and other Victorian styles. The district is now considered one of the trendiest neighborhoods in Huntsville, with art galleries, restaurants, and small shops lining the streets.
Museums
US Space and Rocket Center Museum
This is a top attraction in Alabama. The highlight is the Davidson Center, which features a Saturn V rocket that was never launched. It also includes several exhibits on the program that led up to the moon. The US Space Camp is also based here and has hosted more than half a million visitors since its launch in 1982.
Huntsville Museum of Art
The museum has seven exhibit halls that play host to numerous regional and national art exhibits each year. The museum also boasts of its own 2,500 piece collection. It features a huge gift shop and a coffee shop with a patio that overlooks the park.
Restaurants
Huntsville has its fair share of fast-food restaurants, but you can also save the local food at various high end eateries. Thanks to Huntsville's diverse population, it has a number of ethnic restaurants that specialize in Greek, Indian, Thai, and many other cuisines. Some of the international dining options include:
Phuket Thai Restaurant – A stylish Thai restaurant in the village of Providence

Shogun – An upscale Japanese steakhouse

Ruth's Chris Steak House – A famous New Orleans steakhouse
Contact Us
McLain Surgical Arts is a leading cosmetic surgery practice headed by Dr. Landon D. McLain MD, DMD, FACS in Huntsville, AL. Dr. McLain is a double board certified cosmetic and oral & maxillofacial surgeon, offering a variety of procedures such as dental implants, wisdom teeth extraction, breast augmentation, liposuction, rhinoplasty, tummy tuck, facelift, Botox, and laser skin resurfacing. For more information or to schedule a consultation call 256.429.3411 or click here.
Now taking patients from Huntsville, Scottsboro, Decatur, Madison, Athens, Florence, Cullman, AL and surrounding areas.