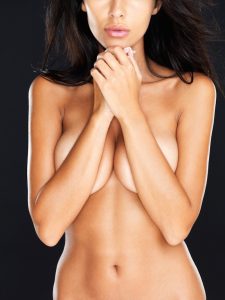 Complications may sometimes result from your primary breast augmentation cosmetic surgery, making it necessary to have the breast implants replaced. Breast implant exchange or replacement surgery should only be performed by a trained and experienced surgeon in order to achieve safe and sustainable outcomes.
You should familiarize yourself with the procedure, and clarify any doubts and concerns with your surgeon during the pre-operative consultations. Cosmetic surgeon Dr. Landon D. McLain provides breast implant exchange and replacement to patients in Huntsville, Madison, Florence, Decatur, Scottsboro, Cullman, Athens, Alabama, and surrounding locations.
Breast Implant Replacement Surgery
Breast implant replacement is a surgical option for women who may have suffered from capsular contracture or another type of implant damage, causing the implants to lose their shape, position or become leaky, hardened, or rippled. The life of a breast implant on average is 10 to 15 years. With time, even the best quality and well-placed implants could ruptured or develop capsular contracture.
The surgeon will perform breast implant exchange surgery in a similar way to the original breast augmentation procedure. Their first choice will be to use the old incision lines, through which the old implants can be removed and replaced with new ones. This will create only minimal additional scarring in nearby areas. But if the patient seeks differently sized or shaped implants, the surgeon will have to adjust the breast pocket and create new incisions.
If only breast implant removal is performed, it may be accompanied by breast lift. Over time, the aging effects will cause loss of skin elasticity, resulting in sagging breasts. Therefore, for women who want to remove the old implants without replacing them with new ones, the procedure may be to be combined with a breast lift.
The surgery can be performed using general anesthesia and IV sedation. Most patients can go back home the same day after the surgery.
Choosing Between Implant Removal and Replacement
Breast implant replacement is often preferred over removal because the firm and natural looking breast appearance can be easily achieved. Also, implant replacement surgery is relatively less complicated and the risk of infection and bleeding is reduced. In case of implant removal, the breasts may deflate or become saggy. Therefore, to restore firmer and tighter breast appearance, the surgeon may perform a breast lift in conjunction with implant removal surgery.
Recovery
Breast implant exchange and replacement recovery will vary from one patient to another depending on several factors. The kind of surgical technique used, the size of the implants, your age and health condition, and how diligently you follow the surgeon's post-op care instructions will make a difference to the recovery.
In general, you can expect to go back to your workplace or resume your regular routine in about one to two weeks. Mild bruising, swelling and discomfort may occur initially. The surgeon will prescribe pain meds in the first week. Swelling will take longer to resolve fully, and the patient may have to wear a special surgical bra for several weeks until the new shape of the breasts is firmed up.
Cosmetic surgeon Dr. Landon D. McLain receives patients from Huntsville, Madison, Florence, Decatur, Scottsboro, Cullman, Athens, Alabama, and nearby areas for breast implant exchange and replacement surgery.
McLain Surgical Arts is a leading cosmetic surgery practice headed by Dr. Landon D. McLain MD, DMD, FACS in Huntsville, AL. Dr. McLain is a double board certified cosmetic and oral & maxillofacial surgeon, offering a variety of procedures such as dental implants, wisdom teeth extraction, breast augmentation, liposuction, rhinoplasty, tummy tuck, facelift, Botox, and laser skin resurfacing. For more information or to schedule a consultation call 256.429.3411 or click here.
Now taking patients from Huntsville, Scottsboro, Decatur, Madison, Athens, Florence, Cullman, AL and surrounding areas.