Oral Surgeries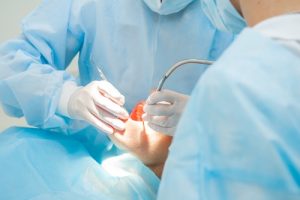 There are several conditions that require an oral surgery. Nobody relishes getting a surgery performed. An accomplished oral surgeon will share certain facts with you to ensure that you understand the upcoming procedure. In this post, let us look at a few common types of dental surgery procedures and what you can expect from them.
Double board certified oral & maxillofacial surgeon Dr. Landon D. McLain provides oral surgery procedures to patients in Huntsville, Madison, Florence, Decatur, Scottsboro, Cullman, Athens, Alabama, and surrounding locations.
Impacted Wisdom Teeth
Wisdom teeth or last molars are generally the last ones to develop. These teeth don't always cause problem while erupting. However, in most cases, they don't fully erupt or are not properly aligned. This makes them impacted between the jawbone and the gums. This affects the health of surrounding teeth as well.
Tooth Extractions
There is a wide array of reasons why you may require a tooth extraction. You may have a diseased tooth or overcrowded teeth that requires removal. You may need to create more room for facilitating proper alignment during orthodontics.
Dental Implants
Your dentist will implant a metal post into the jawbone surgically for replacing a missing tooth. The implant will fuse with the gum bone and tissue over time. This helps in creating a strong foundation to place the natural looking crown or artificial tooth. Dental implants are recommended for patients that have tooth loss and are looking for long-term options.
Biopsies
If you have a suspicious looking lesion in your mouth, a dental surgeon will recommend having a biopsy performed to check for oral cancer. They will remove a small tissue piece for testing at the lab.
Jaw Surgery
If your jaws are not properly aligned, you may have problems with both appearance and function. Generally, surgery is required in such cases for correcting the problem and restoring function.
Sleep Apnea
Patients with serious sleep apnea usually find comfort in conservative treatments. In severe cases, oral surgeons can perform a surgery for removing excess tissue from the back of the throat for significantly reducing symptoms.
Cleft Lip/Palate
These are among the most common birth defects that are estimated to affect 700 – 800 babies in North America. A child has a good chance of leading a normal and healthy life with proper surgical intervention.
Reconstructive surgery
Facial injuries and knocked-out teeth can make the most routine tasks challenging. Reconstructive surgery can be performed for replacing damaged or missing teeth. It can be used for correcting jaw joint issues and treating gum or jawbone damage.
Pre-procedure
Your dentist will give you an outlined treatment plan before surgery. They will discuss various anesthesia options. You should feel free to ask any questions you may have regarding the surgery. Most surgeries are performed under anesthesia for ensuring patient comfort.
Post-procedure
There is a recovery period in oral procedures as with any surgery. You may be unable to drive to home if you are under general anesthesia. You will be tired and groggy and should have someone come pick you up. Your dentist may prescribe painkiller for managing any recover related pain.
Double board certified oral & maxillofacial surgeon Dr. Landon D. McLain receives patients from Huntsville, Madison, Florence, Decatur, Scottsboro, Cullman, Athens, Alabama, and nearby areas for oral surgery procedures.
Contact McLain Surgical Arts in Huntsville, AL to Schedule a Consultation
McLain Surgical Arts is a leading cosmetic surgery practice headed by Dr. Landon D. McLain MD, DMD, FACS in Huntsville, AL. Dr. McLain is a double board certified cosmetic and oral & maxillofacial surgeon, offering a variety of procedures such as dental implants, wisdom teeth extraction, breast augmentation, liposuction, rhinoplasty, tummy tuck, facelift, Botox, and laser skin resurfacing.
For more information or to schedule a consultation call 256.429.3411 or click here.
Now taking patients from Huntsville, Scottsboro, Decatur, Madison, Athens, Florence, Cullman, AL and surrounding areas.