Microdermabrasion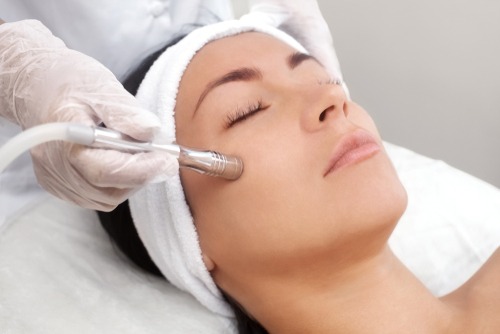 Microdermabrasion has come up as a safe, highly effective, and proven noninvasive aesthetic procedure for providing smooth and glowing skin. Microdermabrasion is more cost effective as compared to cosmetic surgery even when performed by a qualified technician. Various aspects of the procedure will be discussed by the treatment provider during the initial consultation.
McLain Surgical Arts, led by cosmetic plastic surgeon Dr. Landon D. McLain, provides microdermabrasion skin exfoliating treatment to patients in Huntsville, Madison, Florence, Decatur, Scottsboro, Cullman, Athens, Alabama, and surrounding locations.
Cost Factors
The cost of microdermabrasion skin rejuvenation treatment depends on a number of factors. Geographic location of the practice is a key factor. Cost of any procedure is usually higher in large metropolitan areas as opposed to smaller towns in interior and rural locations.
Extent of treatment and experience and skills of the skin care expert that provides the treatment will make a difference to the overall costs. Surgery practices operating under the supervision of qualified and experienced surgeons offer specialized and more advanced microdermabrasion treatments.
Specialty of the treatment will impact the cost at a particular practice. Patients with specific skin types or conditions may find it better to receive their microdermabrasion treatment in a medical setting. Long term skin health and safety needs to be a top priority even though cost is important.
Multiple Treatments
A single microdermabrasion treatment is enough for patients to achieve their aesthetic goals or create significant improvements. However, multiple treatment sessions that are staggered over a period of time may be required for long lasting and extensive results. Best results are generally achieved after 4 – 6 treatments spaced a few weeks apart.
The practitioner, in case of multiple treatments, may offer a package cost that is more cost effective in comparison to individual sessions. During the initial consultation, the treatment provider will give you an estimate for the overall treatment.
Cost of Microdermabrasion in Comparison to Other Procedures
Laser skin resurfacing procedures, such as dermabrasion cost more as compared to microdermabrasion. Other advanced surgical procedures are significantly more expensive to microdermabrasion. This makes the procedure more cost effective as compared to plastic surgery. You don't need to pay for the cost of surgical facility or general anesthesia as well.
Why Does the Cost of Microdermabrasion Differ?
There are several techniques that can be employed for performing microdermabrasion for skin care. A suitable device will be chosen depending on the imperfections and the depth of your skin. Multiple treatment sessions may drive up the cost of acne reduction and other similar treatments. Standards of quality, safety protocols, individualized care and the use of latest technology will also determine the overall treatment dollar amount.
Options for Financing
Patients should ask the treatment provider's staff for details on alternative financing options. Your treatment provider will provide you with information regarding different payment options before the procedure. Medical care financing firms provide loans for such procedures at easy monthly installments and reasonable interest rates.
Cosmetic surgeon Dr. Landon D. McLain receives patients from Huntsville, Madison, Florence, Decatur, Scottsboro, Cullman, Athens, Alabama, and nearby areas for microdermabrasion skin exfoliating treatments.
Contact McLain Surgical Arts in Huntsville, AL to Schedule a Consultation
McLain Surgical Arts is a leading cosmetic surgery practice headed by Dr. Landon D. McLain MD, DMD, FACS in Huntsville, AL. Dr. McLain is a double board certified cosmetic and oral & maxillofacial surgeon, offering a variety of procedures such as dental implants, wisdom teeth extraction, breast augmentation, liposuction, rhinoplasty, tummy tuck, facelift, Botox, and laser skin resurfacing.
For more information or to schedule a consultation call 256.429.3411 or click here.
Now taking patients from Huntsville, Scottsboro, Decatur, Madison, Athens, Florence, Cullman, AL and surrounding areas.