Microdermabrasion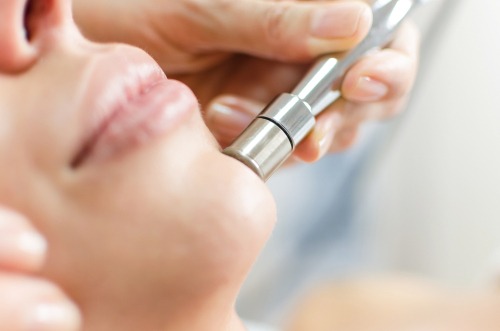 Microdermabrasion is a popular aesthetic procedure. It involves removing the top layer of skin using a small handheld device. The procedure can reduce signs of aging, exfoliate the skin, and make the skin texture appear even. The procedure is safe for all types of skin.
McLain Surgical Arts, led by cosmetic plastic surgeon Dr. Landon D. McLain, provides microdermabrasion skin exfoliating treatment to patients in Huntsville, Madison, Florence, Decatur, Scottsboro, Cullman, Athens, Alabama, and surrounding communities.
Microdermabrasion Skin Exfoliation
Microdermabrasion is a popular exfoliation treatment that makes use of a machine for removing the topmost skin layer. The advantages of this procedure include rapid recovery and low risk. The procedure results in a superficial depth of skin removal.
It is recommended for improving conditions, such as fine lines, photoaging, acne, age spots, and superficial scarring. The process can be used in any skin area, such as the chest, neck, back, and hands.
How Does Microdermabrasion Work?
Microdermabrasion is a noninvasive aesthetic procedure. The specialist will rub fine crystals or use specialist sprays on the skin with a wand to gently exfoliate the skin surface. The procedure is aimed at making the skin appear more youthful.
The procedure is painless and takes 20 minutes for the neck and 30 to 40 minutes for the face as per the American Academy of Dermatology (AAD). You may have slight swelling or symptoms like a sunburn for a few days following the treatment.
You may need anywhere from 5 to 16 treatments from a skin care specialist for noticing reduced signs of aging. People can schedule the treatment every week, once every two weeks or once a month based on the skin type and purpose.
Microdermabrasion is requested by most people for rejuvenating the complexion of the neck and face. You can have the procedure performed anywhere if you get it done by a specialist.
Cosmetic Benefits
The goal of this procedure is to make the skin appear brighter, smoother, and more even colored. Microdermabrasion can be used for addressing:
Uneven skin tone and texture
Dullness
Dark spots
Age spots
Melasma
Microdermabrasion is also used for enhancing the results of skin bleaching and anti-aging products. The procedure helps these products penetrate the skin in a better way.
Dermabrasion and Microdermabrasion
Dermabrasion is more invasive as compared to microdermabrasion. It makes use of more intensive methods for removing the topmost skin layer. Your dermatologist may recommend dermabrasion for removing scars and tattoos. Dermabrasion is not suitable for people with dark colored skin whereas microdermabrasion is suitable for all skin types.
Candidacy for Microdermabrasion
It is useful for people with sallow or dull skin. The procedure can help with acne discoloration, acne, and pock marks. Microdermabrasion is a good treatment option for people leading busy lives looking for benefits with zero downtime.
Time Taken for Recovery
Microdermabrasion doesn't require any downtime. Almost all side effects (if any) will disappear in a few days. Cosmetic surgeon Dr. Landon D. McLain receives patients from Huntsville, Madison, Florence, Decatur, Scottsboro, Cullman, Athens, Alabama, and nearby areas for microdermabrasion skin exfoliating treatments.
Contact McLain Surgical Arts in Huntsville, AL to Schedule a Consultation
McLain Surgical Arts is a leading cosmetic surgery practice headed by Dr. Landon D. McLain MD, DMD, FACS in Huntsville, AL. Dr. McLain is a double board certified cosmetic and oral & maxillofacial surgeon, offering a variety of procedures such as dental implants, wisdom teeth extraction, breast augmentation, liposuction, rhinoplasty, tummy tuck, facelift, Botox, and laser skin resurfacing.
For more information or to schedule a consultation call 256.429.3411 or click here.
Now taking patients from Huntsville, Scottsboro, Decatur, Madison, Athens, Florence, Cullman, AL and surrounding areas.