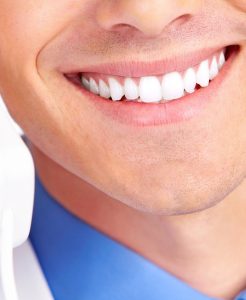 The emergence of dental implants has a tooth replacement solution have revolutionized the field of restorative dentistry over the last few decades. Cutting edge dental implant techniques and technology have enabled thousands of patients to restore their oral function and aesthetics.
Dental implants are the most sustainable and natural looking tooth replacement solution available today. Once the implant is correctly placed, it requires no special care or maintenance. Dental implants are also useful for patients who wear dentures because extra support and stability can be provided with one or more implants.
Benefits
Dental implants are an aesthetically superior option to replace missing teeth because they can create natural looking results. The implant can often enhance the smile even better than before. In terms of strength, stability, resilience and longevity, implants are the best dental restoration. In most cases, the implants will last for a very long time, or even permanently.
Dental implants can be fixed as an independent unit, and do not require support of the adjacent healthy teeth, unlike bridges. Therefore, the health of surrounding teeth is not impacted. The implant may also resolve the joint pain or bite issues that may have occurred due to the teeth moving into the missing tooth space.
Implant involves complete tooth replacement, and as a result, it restores the chewing, digestion and speech to a normal level. Implant placement also enhances the facial tissue and bone. Once the natural smile is restored with implants, the patient will be more socially active and personally confident. Patients using dentures or bridges can use implants for added support.
How do Dental Implants Work?
Dr. McLain only uses titanium dental implants, which he will surgically place into the jawbone. The implant naturally fuses with the bone, which allows it to perform the function of a strong and permanent tooth root for a replacement tooth. With his training in both oral and maxillofacial surgery and cosmetic surgery, Dr. McLain is ideally placed to perform dental implant procedures.
Dr. McLain will ensure successful and effective function of the implant as well as natural looking and attractive oral aesthetics. Once the implant has fused with the jawbone over a few months, and the bond has acquired strength, he will connect a small post to each implant. The post extends through the gums to hold the replacement tooth structure in place.
The post will not be visible once the patient has been fitted with the replacement tooth. Dr. McLain often makes use of the flapless technique while placing the dental implant. This innovative technique allows him to leave the gums intact, ensuring normal blood flow and minimal risk of discomfort and complications.
In more complex cases, the dedicated and innovative Dr. McLain will make use of CT 3D imaging to gain a clearer view of the upper and lower jaws. This enables him to create optional implant placement to ensure complete success and excellent implant function and appearance. Dr. McClain receives patients from Huntsville, Madison, Florence, Decatur, Scottsboro, Cullman, Athens, Alabama, and nearby areas across the horizon in The Cotton State for dental implants.
McLain Surgical Arts is a leading cosmetic surgery practice headed by Dr. Landon D. McLain MD, DMD, FACS in Huntsville, AL. Dr. McLain is a double board certified cosmetic and oral & maxillofacial surgeon, offering a variety of procedures such as dental implants, wisdom teeth extraction, breast augmentation, liposuction, rhinoplasty, tummy tuck, facelift, Botox, and laser skin resurfacing. For more information or to schedule a consultation call 256.429.3411 or click here.
Now taking patients from Huntsville, Scottsboro, Decatur, Madison, Athens, Florence, Cullman, AL and surrounding areas.