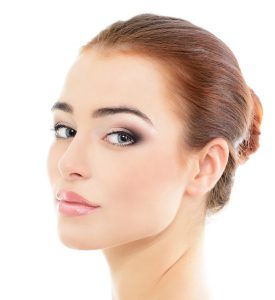 Are you unhappy with how your ears look on your head? Does your child have ears that stick out? This can be difficult to deal with, especially where children are concerned. That is why you may want to consider Otoplasty, also known as cosmetic ear surgery.
You might choose to have cosmetic ear surgery if your ears stick too far from your head. You might also consider Otoplasty if your ears are misshapen due to an injury or birth defect. Whatever your reason, Dr. McLain will discuss this with you and develop a plan to make your ears more visually pleasing to you.
What can ear surgery treat?
Overly large ears

Adult dissatisfaction with previous ear surgery

Protruding ears on one or both sides in varying degrees and not associated with hearing loss
Children are especially good candidates for ear surgery. Such a child would be:
Healthy, without a life-threatening illness or intreated chronic ear infections

Generally, 5 years old, or when a child's ear cartilage is stable enough for correction

Able to follow instructions well

Able to communicate their feelings
Teenagers and adults who are good candidates for ear surgery are:
Healthy individuals who do not have life-threatening illnesses or medical conditions that can impair healing

Individuals with a positive outlook and specific goals in mind

Nonsmokers
After your surgery, you may notice soreness for a few days, numbness and tingling for several weeks, and slight bruising for around two weeks. Dr. McLain will discuss with you what you will need to do before the surgery, and how to care for your ears post surgery.
If you want to correct the shape or positioning of your ears, make an appointment for a consultation with Dr. McLain. He will discuss with you your expectations, what you may expect from the surgery and what he can accomplish for you with ear surgery.
Contact McLain Surgical Arts in Huntsville, AL to Schedule a Consultation
McLain Surgical Arts is a leading cosmetic surgery practice headed by Dr. Landon D. McLain MD, DMD, FACS in Huntsville, AL. Dr. McLain is a double board certified cosmetic and oral & maxillofacial surgeon, offering a variety of procedures such as dental implants, wisdom teeth extraction, breast augmentation, liposuction, rhinoplasty, tummy tuck, facelift, Botox, and laser skin resurfacing.
For more information or to schedule a consultation call 256.429.3411 or click here.
Now taking patients from Huntsville, Scottsboro, Decatur, Madison, Athens, Florence, Cullman, AL and surrounding areas.