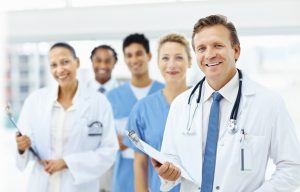 An oral and maxillofacial surgeon (OMS) specializes in diagnosing and surgically treating cancer of the neck, head, and mouth.
According to estimates by the Oral Cancer Foundation, around 42,000 Americans will be diagnosed with oral or pharyngeal cancer this year. The mortality rates of oral cancer are especially high.
This type of cancer is not hard to diagnose or detect, but it is typically discovered in its later stages of development. The family dentist or OMS is most likely to detect oral cancer at the time of routine dental exams.
Oral and maxillofacial surgeon Dr. Landon D. McLain provides treatments to patients in Huntsville, Madison, Florence, Decatur, Scottsboro, Cullman, Athens, Alabama, and surrounding locations.
How to Perform an Oral Cancer Self-Exam
Everybody should perform an oral cancer self-exam on a monthly basis. Bright light and a mirror are required for an oral examination.
Take out any dentures

See and feel inside the lips and front of the gums

Tilt the head back to view and feel the roof of the mouth

Pull the cheek out to view its inside surface and the back of the gums

Pull the tongue out and examine all of its surfaces

Feel both sides of the neck, including under the lower jaw, for enlarged lymph nodes (glands) or lumps
Look for the following when performing a self-examination:
Red patches (erythroplakia)

White patches of the oral tissues (leukoplakia)

Red and white patches (erythroleukoplakia)

A sore that does not heal and bleeds easily

Thickening of the mouth tissues or an abnormal lump

Chronic hoarseness or a sore throat

Hard to chew or swallow

A lump or mass in the neck
The mouth represents one of the body's primary early warning systems. Pay close attention to any suspicious sores or lumps. Upon discovering something, make a prompt appointment with the dentist or OMS. Early treatment may facilitate complete recovery.
How is Oral Cancer Treated?
The treatment for oral cancer varies based on the location, stage, and type of cancer at diagnosis.
Surgery
Early stage cancer treatment typically involves surgery to eliminate the tumor and cancerous lymph nodes. Furthermore, the surgeon may need to take out other tissue around the neck and mouth.
Radiation therapy
Radiation therapy is another treatment option for oral cancer. In this procedure, a doctor aims radiation beams at the tumor one or two times a day, five days a week, for between two to eight weeks. Advanced stage cancer treatment often involves a combination of radiation therapy and chemotherapy.
Chemotherapy
Chemotherapy involves the use of medication to eliminate cancer cells. The patient is given drugs either by mouth or through an intravenous (IV) line. While most patients receive chemotherapy on an outpatient basis, some may require a hospital stay.
Targeted Therapy
Another form of treatment is known as targeted therapy. This treatment can be effective in the early as well as advanced stages of cancer. The drugs used in targeted therapy will attach to certain proteins on cancer cells and inhibit their growth.
Nutrition
Nutrition also comprises an integral part of oral cancer treatment. Patients commonly experience difficulty or pain while eating and swallowing after many treatments. Therefore, poor appetite and weight loss are a common side effect. The patient should ensure that they discuss their diet with their doctor.
Oral and maxillofacial surgeon Dr. Landon D. McLain receives patients from Huntsville, Madison, Florence, Decatur, Scottsboro, Cullman, Athens, Alabama, and nearby areas.

McLain Surgical Arts is a leading cosmetic surgery practice headed by Dr. Landon D. McLain MD, DMD, FACS in Huntsville, AL. Dr. McLain is a double board certified cosmetic and oral & maxillofacial surgeon, offering a variety of procedures such as dental implants, wisdom teeth extraction, breast augmentation, liposuction, rhinoplasty, tummy tuck, facelift, Botox, and laser skin resurfacing. For more information or to schedule a consultation call 256.429.3411 or click here.
Now taking patients from Huntsville, Scottsboro, Decatur, Madison, Athens, Florence, Cullman, AL and surrounding areas.