Microdermabrasion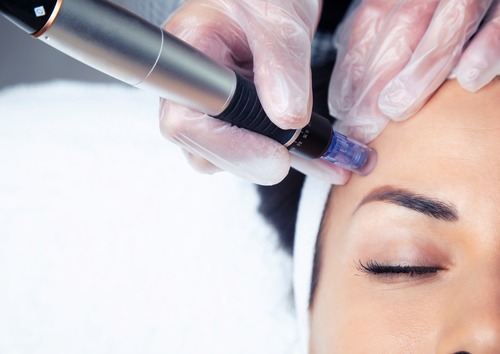 Microdermabrasion is effective in improving the appearance of wrinkles, scars, sun spots, fine lines, and other imperfections. The treatment is safe and painless. It works towards enhancing the absorption and penetration of skin products that helps in creating beautiful looking and more youthful skin.
Dedicated microdermabrasion treatment providers do everything possible to help their patients make well-thought and informed decisions. They walk patients through the various aspects of the procedure. This includes discussing the overall costs during the initial consultation. The treatment provider will also show you before and after images for setting the right expectations.
You should make sure that you review before and after images carefully during the initial consultation. You should also ask the surgeon any questions that you may have.
McLain Surgical Arts, led by cosmetic plastic surgeon Dr. Landon D. McLain, provides microdermabrasion skin exfoliating treatment to patients in Huntsville, Madison, Florence, Decatur, Scottsboro, Cullman, Athens, Alabama, and surrounding communities.
Understanding Before and After Images of Microdermabrasion
Microdermabrasion before and after pictures refers to a set of images of past patients that have achieved excellent results from the treatment. The images include photographs taken during several stages of the procedure. There would be images highlighting the end results once all sessions are finished.
New prospective patients are shown the images only after gaining consent from past patients. On top of this, the images are shown in a discreet manner. The only reason for presenting these pictures is to provide prospective patients with a better understanding of the procedure. New patients can make rational choices after developing reasonable expectations.
Now these images are not on the site as of right now but we know it does not take too long for a professional to update the website. You will have to see these images during the consultation which is compulsory anyway
Microdermabrasion Before and After Images Benefits
It is possible for patients seeking advanced skin care procedures to have inhibitions regarding the ability and results from the treatment. Patients can be understandably confused about the procedure. Microdermabrasion before and after photographs help patients attain deeper understanding of the results. Patients can make better decisions after looking at the images.
Gone are the days when images could only be found on marketing brochures which only stimulated even more questions in the viewer. Now we have digital images which are so clear anyone can ascertain what they are seeing and then easily apply that to their own situation. This means that the average patient knows what to expect which enables them to relax which is easier on everyone involved.
Developing Real and Realistic Expectations
Your expert treatment provider will present you with before and after images during the pre-treatment consultation. This will help patients develop realistic expectations from the treatment. It also helps patients avoid post-treatment frustration and disappointment. Patients with realistic expectations develop higher satisfaction levels.
Posting Images on Instagram
Digital versions of the microdermabrasion before and after images may be published by the providers on their site as well as Instagram. Potential patients tend to feel more confident about a procedure after looking at visual evidence. Microdermabrasion 'before and after pictures' are likely to have a more compelling effect when presented as part of a slideshow.
Microdermabrasion Before and After Pictures Can Get the Message Across
Microdermabrasion 'before and after' images are usually more convincing than words. Explanations provided by a treatment provider are open to interpretation. They may also sound incredulous to the patient in some cases. Pictures present the story loud and clear. Patients are more convinced after looking at microdermabrasion before and after images.
However, it is vital that the treatment provider doesn't modify the images in any way. Cosmetic surgeon Dr. Landon D. McLain receives patients from Huntsville, Madison, Florence, Decatur, Scottsboro, Cullman, Athens, Alabama, and nearby areas for microdermabrasion skin exfoliating treatments.
Contact McLain Surgical Arts in Huntsville, AL to Schedule a Consultation
McLain Surgical Arts is a leading cosmetic surgery practice headed by Dr. Landon D. McLain MD, DMD, FACS in Huntsville, AL. Dr. McLain is a double board certified cosmetic and oral & maxillofacial surgeon, offering a variety of procedures such as dental implants, wisdom teeth extraction, breast augmentation, liposuction, rhinoplasty, tummy tuck, facelift, Botox, and laser skin resurfacing.
For more information or to schedule a consultation call 256.429.3411 or click here.
Now taking patients from Huntsville, Scottsboro, Decatur, Madison, Athens, Florence, Cullman, AL and surrounding areas.