Radiesse Dermal Filler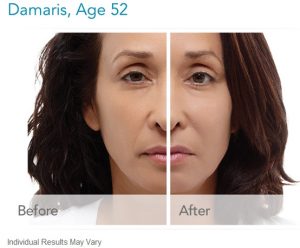 Radiesse is an FDA approved dermal filler to improve the facial signs of aging. Radiesse has emerged as an increasingly sought-after non-surgical treatment for skin care in the United States.
However, aesthetic dermatology procedures such as Radiesse are typically not covered by medical insurance. This makes the cost of the treatment an important deciding factor for many patients.
The treatment provider will discuss with the patient about various aspects of Radiesse injections, including the cost estimates during the initial consultation.
The first concern of the provider is to ensure that the patient arrives at a well-informed decision. Experienced cosmetic surgeon Dr. Landon D. McLain provides Radiesse filler treatment to patients in Huntsville, Madison, Florence, Decatur, Scottsboro, Cullman, Athens, Alabama, and other cities and communities in the Heart of Dixie.
Price Tag Comparison
Many innovative anti-aging and skin care techniques such as ultrasound, laser, and radio frequency based procedures are available today to address specific aesthetic requirements. Radiesse proves to be more cost-effective than many of these non-surgical treatment options. The longer sustainability of the outcomes with Radiesse may make it more cost-effective than some other dermal filler injections.
This is one of the reasons why many patients choose Radiesse and similar dermal fillers rather than other treatment options for facial rejuvenation and skin care. Patients should know that Radiesse provides longer lasting outcomes which sustain between 12 and 18 months.
Relatively, other fillers offer sustainable outcomes for only up to one year. Therefore, patients should view the sticker price of Radiesse keeping in mind its sustainability and effectiveness.
Radiesse dermal filler treatment can be performed in-office with no need for sedation or anesthesia. Expenses such as anesthesiologist fees and surgical venue costs do not apply to a Radiesse dermal filler procedure. Most patients will only need one office visit. In comparison, most heat or light based surgical procedures usually require multiple treatment sessions.
The recovery period after a Radiesse injectable is negligible. This may translate into further savings for people who do not want to take leave from work.
Factors Impacting the Financials
The dollar amount for Radiesse filler treatment is different between cosmetic practices. In fact, it can differ between two patients even at the same practice. The main factor affecting the monetary amount is the location of the practice. Large urban centers and prime cities usually incur higher costs of real estate, and other overhead expenses compared to smaller towns and interior regions.
The standard of quality and type of personalized care within a practice also impacts the overall cost. Patients must ensure that they choose a trained and skilled treatment provider because Radiesse filler injections need significant levels of expertise to administer.
Treatment Extent
The specific anti-aging requirements of a patient determine the amount of the Radiesse filler gel used in each case. Some practices may offer rebates if the patient undergoes Radiesse filler treatment along with another non-invasive or surgical procedure. At times, the manufacturer can also offer discounts during special promotions.
Patients can use these opportunities to avail the treatment at a lower cost. Dr. McLain receives patients from Huntsville, Madison, Florence, Decatur, Scottsboro, Cullman, Athens, Alabama, and other towns and cities across the horizon for Radiesse.
McLain Surgical Arts is a leading cosmetic surgery practice headed by Dr. Landon D. McLain MD, DMD, FACS in Huntsville, AL. Dr. McLain is a double board certified cosmetic and oral & maxillofacial surgeon, offering a variety of procedures such as dental implants, wisdom teeth extraction, breast augmentation, liposuction, rhinoplasty, tummy tuck, facelift, Botox, and laser skin resurfacing. For more information or to schedule a consultation call 256.429.3411 or click here.
Now taking patients from Huntsville, Scottsboro, Decatur, Madison, Athens, Florence, Cullman, AL and surrounding areas.