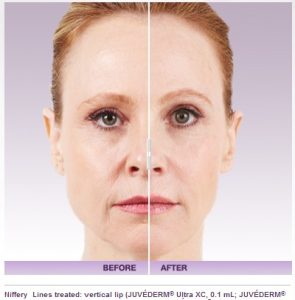 Juvederm dermal filler is a hyaluronic acid based injectable treatment to mitigate facial wrinkles, creases, and fine lines. At the time of initial consultation, the cosmetic surgeon will explain the pros and cons of Juvederm treatment so that the patient can draw comparisons with other treatment options and make an informed choice.
An experienced treatment provider may also provide Juvederm dermal filler before and after photographs. The first goal of the provider will be to educate the patient about all aspects of the treatment and describe its potential effectiveness. Dr. Landon McLain is a double board certified cosmetic and oral & maxillofacial surgeon providing Juvederm and various other surgical and non-surgical procedures to patients in Huntsville, Alabama and surrounding communities.
What are Juvederm Dermal Filler Before and After Pictures?
Before and after pictures in case of Juvederm dermal filler refer to a pair or group of images pertaining to an earlier patient who has undergone the same injectable treatment with good results. The images include pictures taken before the treatment and after the treatment at a time when the initial mild redness and swelling has been resolved and full effects of Juvederm are established.
The cosmetic surgeon will obtain the pictures with the patient's consent and present them before new patients in an appropriate manner. The purpose here is to use the images as a visual aid to explain to new patients about different aspects of the procedure. Once a new patient knows what Juvederm filler injections can or cannot do for them, they are in a better position to make an informed decision.
The use of digital technology has aided so many industries and the medical one is just one of them. If you can see accurate photos of the procedure you can almost predict the future in knowing how this procedure will look on you. A picture is worth a thousand words and now if you choose to sign up for this procedure you will be much more informed than patients were years ago before digital photos were created and used.
Advantages
Many people may be skeptical about the efficacy of a non-surgical anti-aging facial procedure such as Juvederm. When a new patient considers this treatment, they may not be able to visualize how it will enhance their facial appearance and whether it will meet their personal aesthetic aspirations. Some patients may need more intensive treatment than others.
In some cases, the treatment provider may recommend Juvederm in conjunction with other surgical or non-surgical procedures. In all these situations, the patient can make better choices when they have access to Juvederm dermal filler before and after photos. Double board certified cosmetic and oral & maxillofacial surgeon receives patients from Huntsville, Alabama for Juvederm and other procedures.
Staying Realistic
In any surgical or non-surgical procedure, it is important to ensure that the patient gets a realistic understanding of the potential benefits. Therefore, the Juvederm expert will prefer to show Juvederm dermal filler before and after photos at the very outset so that the patient knows clearly what to expect and what not to expect from the results. This will also minimize the risk of any disappointment occurring at a later stage for the patient.
Image Gallery
The surgeon has the option to provide Juvederm before and after photos on their practice website under a separate section called Image Gallery. New patients can review the photos in the comfort and privacy of their home or office, and then decide whether to visit the surgeon's office for a personal Juvederm consultation. Now there is less surprises when the surgery is over with and less angst going in.
McLain Surgical Arts is a leading cosmetic surgery practice headed by Dr. Landon D. McLain MD, DMD, FACS in Huntsville, AL. Dr. McLain is a double board certified cosmetic and oral & maxillofacial surgeon, offering a variety of procedures such as dental implants, wisdom teeth extraction, breast augmentation, liposuction, rhinoplasty, tummy tuck, facelift, Botox, and laser skin resurfacing. For more information or to schedule a consultation call 256.429.3411 or click here. Now taking patients from Huntsville, Scottsboro, Decatur, Madison, Athens, Florence, Cullman, AL and surrounding areas.