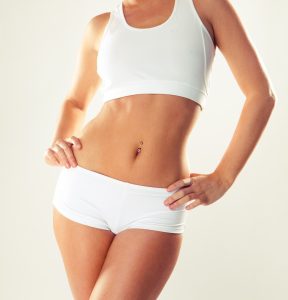 After liposuction, the new body shape will be more or less permanent. In case the patient gains a moderate amount of weight after the surgery, their figure will simply become a larger version of their new body shape.
Cosmetic surgeon Dr. Landon D. McLain provides liposuction to patients in Huntsville, Madison, Florence, Decatur, Scottsboro, Cullman, Athens, Alabama, and surrounding communities.
Post-Liposuction Pregnancy
Some women may harbor concerns on how a future pregnancy may impact their liposuction outcomes. Generally, patients can feel assured that pregnancy will not alter their body contouring results achieved with liposuction in a permanent manner.
If a woman undergoes a post-liposuction pregnancy and gains weight but loses the weight after the delivery, her original liposuction results will return. A majority of women in such cases will appear as if they have not gone through a post-liposuction pregnancy at all.
Regardless, women candidates for liposuction should be aware that their goal should be to undergo a plastic surgery procedure when they do not intend to become pregnant in the future.
Pregnancy can lead to stretch marks, cellulite, and sagging skin in the buttocks, breast, abdomen, and thigh regions. However, these aesthetic issues are unrelated to liposuction.
Liposuction is a fat loss and body contouring procedure. But it is not a procedure meant to enhance skin texture, remove cellulite or stretch marks, or tighten sagging skin.
Liposuction after Final Pregnancy
Numerous pregnancies may cause the development of stubborn fatty deposits in the abdomen area in some women.
Some women may be able to avoid the tummy tuck, which is a more invasive procedure, by choosing liposuction to achieve a taut and more youthful looking abdomen after their final pregnancy.
Permanent Fat Cell Reduction
Liposuction plastic surgery eliminates fat cells. These fat cells cannot re-grow once they have been removed. The adult body does not usually produce new fat cells after puberty, even if the person gains a moderate amount of body weight. Therefore, the fat cells that are removed through liposuction are gone for good.
The patient's new, sleeker figure achieved with liposuction will be permanent in case she does not put on an excessive amount of weight after her pregnancy. However, it is critical to understand that the fat cells that remain in the body after liposuction can grow larger in size if she gains substantial amounts of weight.
In addition, the process of aging will cause normal changes in the body shape over the years. But patients can be confident that the aesthetic benefits of liposuction will always be visible as long as they follow a healthy diet and regular exercise program.
When do the Results become Establish?
Most patients will be able to experience 90 percent of their final lipo outcomes in almost three months after the procedure. The post-operative swelling will subside gradually over many months depending on the liposuction technique used and the extent of the surgery.
The complete outcomes of the liposuction will establish after the swelling subsides completely. Cosmetic surgeon Dr. Landon Dr. McLain receives patients from Huntsville, Madison, Florence, Decatur, Scottsboro, Cullman, Athens, Alabama, and nearby areas for liposuction.
McLain Surgical Arts is a leading cosmetic surgery practice headed by Dr. Landon D. McLain MD, DMD, FACS in Huntsville, AL. Dr. McLain is a double board certified cosmetic and oral & maxillofacial surgeon, offering a variety of procedures such as dental implants, wisdom teeth extraction, breast augmentation, liposuction, rhinoplasty, tummy tuck, facelift, Botox, and laser skin resurfacing. For more information or to schedule a consultation call 256.429.3411 or click here.
Now taking patients from Huntsville, Scottsboro, Decatur, Madison, Athens, Florence, Cullman, AL and surrounding areas.