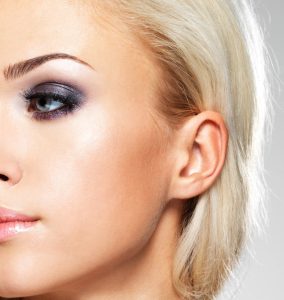 If one or both ears are malformed, it can lead to frustration and low self-confidence in adults and children alike. Many times, defects in the ear shape or protuberant ears may be present since birth.
However, ear injury can also cause a deformed shape. Otoplasty is an effective and proven cosmetic surgery procedure to restore an appealing, natural looking shape and size of the ears.
Otoplasty or ear reshaping surgery or ear pinning surgery is meant to correct large, asymmetrical or awkward looking ears. A skilled and experienced surgeon will use cutting-edge surgical techniques to ensure that this procedure is more precise and less invasive.
Dr. Landon D. McLain provides otoplasty cosmetic surgery procedure to patients in Huntsville, Madison, Florence, Decatur, Scottsboro, Cullman, Athens, Alabama, and surrounding locations.
Appropriate Candidates
A person who is unhappy about the appearance of their oddly shaped or prominent ears may be a suitable ear reshaping surgery candidate.
Before considering a patient for otoplasty, the surgeon will evaluate the patient's overall health condition, facial anatomy, and their personal cosmetic goals and desires.
The patient may require ear reconstruction in combination with reshaping if they have suffered an ear injury.
Children whose ears are fully developed can also make ideal candidates for otoplasty as long as they are old enough to choose the procedure with a fundamental understanding of why they want to undergo it. This surgery is appropriate for kids who feel shy or unhappy in their peer group due to their oddly shaped ears.
Procedure
The ear is made up mainly of cartilage, which can be sculpted by the cosmetic surgeon to develop the desired size or shape.
The objective is to develop a shape that is harmonious with the other characteristics of the face and is proportional to the head shape. It is also crucial to make sure that both ears resemble each other in a mirrored manner.
The patient should have reasonable expectations from the procedure. The surgeon will inform them that the ears cannot be identical to each other. It may appear unnatural, while the procedure aims to create natural looking ears.
In many cases, a skilled surgeon will only change one ear to accomplish a balanced appearance and make the procedure less invasive. But some patients may need correction in both ears.
After making the necessary changes, the surgeon will place stitches. These will be taken out in around one week after the ear surgery. The incisions will be made behind the ears to ensure that any future scarring remains discreet.
Recovery
After otoplasty, an average patient will be able to return to their normal routine or resume work in around one week. However, they will need to avoid aggressive physical activities for nearly two weeks to allow the healing to be completed.
Dr. Landon D. McLain receives patients from Huntsville, Madison, Florence, Decatur, Scottsboro, Cullman, Athens, Alabama, and nearby areas for otoplasty cosmetic surgery.

McLain Surgical Arts is a leading cosmetic surgery practice headed by Dr. Landon D. McLain MD, DMD, FACS in Huntsville, AL. Dr. McLain is a double board certified cosmetic and oral & maxillofacial surgeon, offering a variety of procedures such as dental implants, wisdom teeth extraction, breast augmentation, liposuction, rhinoplasty, tummy tuck, facelift, Botox, and laser skin resurfacing. For more information or to schedule a consultation call 256.429.3411 or click here.
Now taking patients from Huntsville, Scottsboro, Decatur, Madison, Athens, Florence, Cullman, AL and surrounding areas.