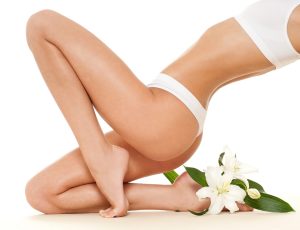 After liposuction surgery, the patient's new figure will be more or less permanent. Even if the patient gains a moderate amount of weight following the surgery, their figure will merely become a slightly larger version of their new body shape.
Reliable cosmetic surgeon Dr. Landon D. McLain provides liposuction to patients in Huntsville, Madison, Florence, Decatur, Scottsboro, Cullman, Athens, Alabama, and surrounding locations in the Yellowhammer State.
Permanent Reduction in Fat Cells
The benefit of liposuction is that the fat cells will not re-grow once they have been removed. The human body does not usually produce new fat cells after puberty, even when a person gains a moderate amount of weight. This means that the fat cells removed with liposuction are eliminated for good.
The new, sleeker body that a patient achieves through liposuction will be permanent as long as they do not gain a substantial amount of weight. But the patient should note that the fat cells that remain in the body following lipo can grow bigger in size if they put on a significant amount of weight.
In addition, the natural process of aging will cause normal changes in the shape of the body over the years. However, the patients can be assured that the cosmetic advantages of lipo will always sustain as long as they maintain a balanced diet and an active lifestyle.
Pregnancy Effects after a Liposuction Surgery
Some women may want to understand the impact of a future pregnancy on the results of their liposuction surgery. Most patients can be confident that a post-liposuction pregnancy will not permanently affect their body contouring outcomes.
If a woman becomes pregnant and gains weight after liposuction, but subsequently loses the extra weight gained during the pregnancy after the delivery, the original outcomes of her liposuction will return.
Ideally, female lipo candidates should choose to undergo plastic surgery when they do not have plans to conceive in the future. Pregnancy can lead to cellulite, stretch marks, and sagging skin in the breast, butt, abdomen, and thigh areas. These aesthetic concerns are not related to liposuction.
Liposuction is a procedure meant for fat reduction and body contouring to enhance the shape of the body, but it does not have a major effect on the quality of skin texture, cellulite or stretch mark removal, or tightening of loose skin.
Liposuction after Final Pregnancy
Certain women may develop stubborn fatty pockets in the abdominal area due to multiple pregnancies. In case a candidate chooses to undergo liposuction after her final pregnancy, she can expect dramatic enhancements in the shape of her abdomen.
With liposuction after their last pregnancy, many female patients may be able to avoid an abdominoplasty, which is a relatively more invasive plastic surgery.
When do the Outcomes become Visible?
A majority of patients will be able to accomplish 90 percent of their final liposuction results in around three months after the procedure. The post-op inflammation will resolve slowly, which may take several months depending on the type of liposuction technique used and the extent of the surgery.
After the inflammation resolves completely, the patient can view the full and final outcomes of their liposuction surgery. Dedicated cosmetic surgeon Dr. Landon D. McLain receives patients from Huntsville, Madison, Florence, Decatur, Scottsboro, Cullman, Athens, Alabama, and other suburbs and cities in this supreme part of the US for liposuction.

McLain Surgical Arts is a leading cosmetic surgery practice headed by Dr. Landon D. McLain MD, DMD, FACS in Huntsville, AL. Dr. McLain is a double board certified cosmetic and oral & maxillofacial surgeon, offering a variety of procedures such as dental implants, wisdom teeth extraction, breast augmentation, liposuction, rhinoplasty, tummy tuck, facelift, Botox, and laser skin resurfacing. For more information or to schedule a consultation call 256.429.3411 or click here.
Now taking patients from Huntsville, Scottsboro, Decatur, Madison, Athens, Florence, Cullman, AL and surrounding areas.