Prosthodontics
Prosthodontics involves the restoration of oral function, comfort, and aesthetics by placing artificial substitutes. A wide range of restorations such as fillings, crowns, veneers, dentures, bridges, and dental implants are a part of prosthodontic treatment.
Your dentist will use these artificial materials to restore damaged teeth, anchor crowns/bridges/dentures with dental implants, replace missing teeth, improve oral aesthetics, and correct orofacial problems.
Oral and maxillofacial surgeon Dr. Landon D. McLain provides oral surgery to patients in Huntsville, Madison, Florence, Decatur, Scottsboro, Cullman, Athens, Alabama, and surrounding communities.
Restoration of Damaged Teeth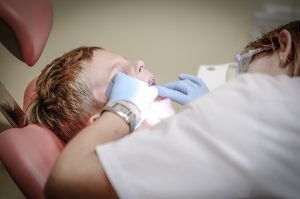 Teeth can be damaged during the developmental process, or the damage may occur at a later stage due to caries, teeth grinding, trauma, failing restorations, tooth exposure to acidic substances or reduction of salivary flow. Complexity of each dental condition will vary, and may involve minor or comprehensive prosthodontic intervention to address the patient's unique concerns.
Replacement of Missing Teeth
Missing teeth can be replacement with the help of a variety of prosthodontic treatment options. Depending on the patient's needs and personal goals, the dentist may recommend a fixed bridge, dental implants, removable partial dentures, complete dentures, or a combination of treatment options.
The key to success in these procedures is to choose an experienced dentist who can provide high quality prosthodontic care. The dentist should have a thorough understanding of the dental lab work, and engage closely with the lab technicians to make sure that the customized prosthesis in each case is well-fitting, comfortable, and aesthetically appealing for the patient.
Dental Implants
Dental implant surgery is the most effective way to replace a missing tooth. The results with implants are long lasting or even permanent, and the success rate of the implant procedure is very high as long as a skilled oral surgeon performs it.
Implant placement does not involve adjacent teeth for support, which allows the dentist to restore a missing tooth without compromising the health of surrounding teeth. Results are sustainable and natural looking, and you will not have to undertake any significant or special care for your implant in the long run.
Cosmetic Dental Procedures
An experienced oral surgeon will be able to ensure that whether you need a single tooth restoration or more extensive oral rehabilitation, the artificial components used in your treatment harmoniously blend with the surrounding oral environment. In that sense, prosthodontic treatment and aesthetic skills go hand in hand.
Your dental procedure must not only improve function and comfort levels, but also successfully reproduce shape, form, color, and aesthetics. Prothodontic expertise involves advanced bonding and whitening techniques, use of veneers and other solutions to enhance oral appearance and reshape teeth, natural looking color match, and the precise crafting and placement of fixed prosthesis like bridges and crowns.
Correction of Complex Conditions
Prosthodontic treatment can help improve the relationship between teeth and jaws for a correct bite. The oral surgeon will combine these treatments with other solutions to correct birth deformities such as cleft palate, treat traumatic injuries and disorders such as TMJ, as well as perform complex oral restorations for patients treated for head and neck cancer.
Oral and maxillofacial surgeon Dr. Landon D. McLain receives patients from Huntsville, Madison, Florence, Decatur, Scottsboro, Cullman, Athens, Alabama, and nearby areas for oral surgery.
Contact McLain Surgical Arts in Huntsville, AL to Schedule a Consultation
McLain Surgical Arts is a leading cosmetic surgery practice headed by Dr. Landon D. McLain MD, DMD, FACS in Huntsville, AL. Dr. McLain is a double board certified cosmetic and oral & maxillofacial surgeon, offering a variety of procedures such as dental implants, wisdom teeth extraction, breast augmentation, liposuction, rhinoplasty, tummy tuck, facelift, Botox, and laser skin resurfacing.
For more information or to schedule a consultation call 256.429.3411 or click here.
Now taking patients from Huntsville, Scottsboro, Decatur, Madison, Athens, Florence, Cullman, AL and surrounding areas.