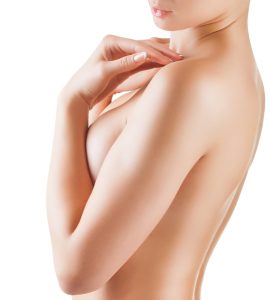 A breast lift, also known as mastopexy, raises the breasts by removing excess skin and sagging tissues and tightening the surrounding tissue to reshape and support the new breast contour.
A breast lift can improve your figure providing a breast profile that is more uplifted and youthful. Women's breasts change as they age and especially after childbirth. The changes and loss of skin elasticity can be caused by:
Aging
Gravity
Heredity
Weight fluctuations
Breastfeeding
Pregnancy
Dr. McLain will discuss with you what a breast lift can and cannot do. This surgery can change the size and shape of the breasts, but often will not restore fullness in the upper pole of the breast in a lasting fashion. This usually requires the addition of an implant which may be done at the time of the lift.

By removing excess, stretched out skin, removing/reshaping the breast tissue, and raising the nipple and areola into a more forward position, Dr. McLain can create a more youthful breast contour.
Contact McLain Surgical Arts in Huntsville, AL to Schedule a Consultation
McLain Surgical Arts is a leading cosmetic surgery practice headed by Dr. Landon D. McLain MD, DMD, FACS in Huntsville, AL. Dr. McLain is a double board certified cosmetic and oral & maxillofacial surgeon, offering a variety of procedures such as dental implants, wisdom teeth extraction, breast augmentation, liposuction, rhinoplasty, tummy tuck, facelift, Botox, and laser skin resurfacing.
For more information or to schedule a consultation call 256.429.3411 or click here.
Now taking patients from Huntsville, Scottsboro, Decatur, Madison, Athens, Florence, Cullman, AL and surrounding areas.