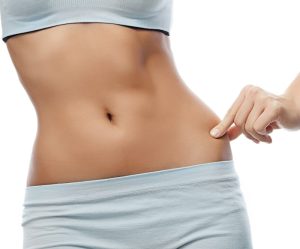 Abdominoplasty, more commonly known as a Tummy Tuck may be the answer to stubborn fatty areas around the mid-section. A tummy tuck is a surgical procedure to improve the shape and appearance of the abdomen.
A tummy tuck will remove excess skin while tightening loose or separated abdominal muscles to give you a more smooth and toned physique. However, if you also have areas of stubborn fat, such as love handles, a tummy tuck alone is not likely to be the most effective option.
Dr. McLain may also talk with you about adding Liposuction to the procedure to remove pockets of fat that are not responding to diet and exercise. While liposuction can get rid of love handles, back rolls and baby fat, it won't address excess skin or muscle laxity, which often accompany a pregnancy or big weight loss.
Anyone can be a candidate for a tummy tuck even if you have an otherwise normal body weight and proportion. Sometimes diet and exercise simply are not enough to correct a protruding tummy. The most common causes of this include:
Heredity

Aging

Pregnancy

Prior surgery

Significant fluctuations in weight
Although the results of a tummy tuck are considered permanent, the positive outcome can be greatly diminished by significant fluctuations in your weight. For this reason, if you are planning significant weight loss or future pregnancies, you may want to wait before having this surgery.
There are benefits to adding liposuction to the tummy tuck including you will only need to schedule one surgery, and you will have only one recovery period.
Another benefit of combining the two procedures is that Dr. McLain can eliminate the need for post-surgical drains. This means you won't have to have messy drains while you recover, and the recovery period is usually shorter than that of a regular tummy tuck.
Combining a tummy tuck with liposuction can maximize your body contouring results in a way that isn't possible with either procedure on its own. Excess fat and loose skin often go hand in hand, so treating both of these cosmetic concerns at the same time is often the most efficient and effective approach.
Schedule your consultation with Dr. McLain where he will discuss with you your goals and the outcome you would like to attain. He will also answer your questions and ensure that you have the outcome you want with your tummy tuck.
Contact McLain Surgical Arts in Huntsville, AL to Schedule a Consultation
McLain Surgical Arts is a leading cosmetic surgery practice headed by Dr. Landon D. McLain MD, DMD, FACS in Huntsville, AL. Dr. McLain is a double board certified cosmetic and oral & maxillofacial surgeon, offering a variety of procedures such as dental implants, wisdom teeth extraction, breast augmentation, liposuction, rhinoplasty, tummy tuck, facelift, Botox, and laser skin resurfacing.
For more information or to schedule a consultation call 256.429.3411 or click here.
Now taking patients from Huntsville, Scottsboro, Decatur, Madison, Athens, Florence, Cullman, AL and surrounding areas.