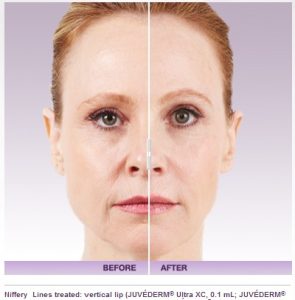 A youthful face has smooth skin, supported by underlying fullness from fat and other healthy, hydrated tissues. As we age, these diminish, which can cause a drawn, lax appearance. Dr. Landon McLain offers dermal fillers in Huntsville, AL to restore volume to the skin's support structures. Dr. McLain's extensive cosmetic and maxillofacial training guides his artful use of these remarkable products, and allows him to re-create youthful facial contours.
Are you interested in dermal fillers? Dr. McLain attracts patients from Birmingham, AL, Tennessee and Georgia, for non-surgical facial rejuvenation. Request your consultation today or call our office at (256) 429-3411.
Photo Gallery
Click below to view real patient before and after images.
Schedule Your Consultation Today
Dr. McLain on Botox vs. Fillers
Hyaluronic Acid Fillers
Young, healthy-looking skin is rich in a naturally hydrating substance called hyaluronic acid (HA). The amount of HA in your skin decreases as you age. The resulting structure and volume loss leads to facial laxity and wrinkles. JUVÉDERM® XC, BELOTERO® and Restylane® replace HA, replenishing volume and smoothing away wrinkles and folds.
HA fillers instantly eliminate facial wrinkles like those around your mouth and nose with just one treatment. They also correct multiple problem areas such as smile lines and vertical lip lines.
Each HA filler will produce slightly different results for each patient. Dr. McLain will help determine which one will work best for you. Results last between 6 months and 1 year for each treatment. In many cases, combining dermal filler treatments with BOTOX® Cosmetic can make improvements last longer. Practicing proper skin care can also prolong your results.
JUVÉDERM XC is infused with lidocaine to improve comfort during treatment.
RADIESSE®
Like hyaluronic acid, collagen contributes to facial volume and skin hydration and pliability. As a part of the aging process, your own natural collagen breaks down, causing wrinkles, facial lines and skin laxity. Upon injection, RADIESSE Volumizing Filler immediately provides volume and lift while stimulating natural collagen production.
RADIESSE contains calcium-based microspheres suspended in a gel carrier. It acts as a scaffold under the skin, providing structure and stimulating your own natural collagen to grow. This process continues for several months, which extends the initial effect of RADIESSE. These natural results are clinically proven to last a year or more in many patients.
Dr. McLain can mix RADIESSE with lidocaine to reduce injection-related discomfort significantly.
Lip Augmentation
For patients who desire fuller, more sensual lips, Dr. McLain also offers lip augmentation. This can be achieved on a temporary basis through hyaluronic acid filler injections.
For permanent lip augmentation, Dr. McLain can inject liquid silicone into the lips at 6-week intervals. Permanent lip augmentation patients will require 2 to 3 sessions for best results.